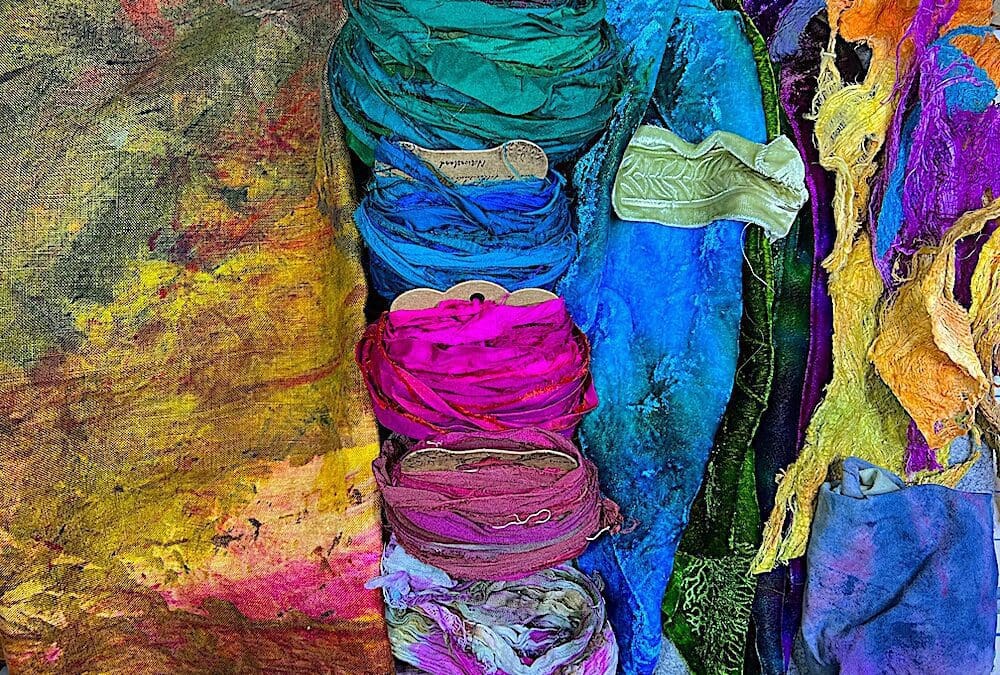 Yesterday I released a new YouTube Video: My Top Ten Favorite Threads For Hand Stitching.
As a follow up to that video, I'm adding my favorite materials to use, as well. Click on any highlighted text for more information.
Fabrics:
Pat Pauly's gorgeous hand dyed linens.  My absolute favorite thing to stitch on is 100% linen and Pat Pauly's gorgeous hand dyed linens are the best, most unique and above and beyond anything else that's out there on the market.  Pat is almost always sold out of her linens as the demand has been fierce, however, if you want to learn how to hand paint, stencil and screen print your own, take one of her workshops and you can learn to create your own.  As a quick aside, I have a brand new workshop that I'm offering in 2022, which features fabric kits made up of Pat's linens that she is specifically making exclusively for my workshop.  These linens are only available to those who sign up for the workshop!  Very exciting.
2. Mulberry Bark. I love layering my linen with Stef Francis' Mulberry Bark.  I stitch directly onto it.  Some people have said they soak it in water, but I don't.  I prefer to pull it, bunch it up, stitch it down and let it be.
3. Hand Dyed Cheesecloth.  There are places to purchase already hand dyed cheesecloth, Stef Francis being one of them, but I like to paint my own, using Caran D'Ache Neocolor II Water Soluble Pastels.
4. Stef Francis Silk Throwsters.  I love this stuff.  It's a bit like wool roving, but it's silk and has a beautiful hand and texture to it.  I needle punch it and then stitch on top of it.
5. Stef Francis Sari Ribbon It comes in a huge hank!  I couch it, ruch it, scrunch it, twist it, use it to wrap other things in it and then stitch on it. There is no end to the things one can do with it.
6. Old T-shirt.  I love hand dyeing an old t-shirt and then cutting it up.  I did a video on how to do this. See below.
7. Silk Velvet It's fun to hand dye your own, but Stef Francis also carries some beautiful silk velvet in gorgeous colors. If you want to get really creative, you can emboss your silk velvet, as I did in the photograph below.  I like using wooden stamps, like these.
To see my Top Ten Favorite Threads to hand stitch with, go over to my video and be sure to scroll down to see the links I've provided for everything I discuss and demonstrate.
❤️
*Disclaimer: Ariane is a participant in the Amazon Services LLC Associates Program, an affiliate advertising program designed to provide a means for sites to earn advertising fees by advertising and linking to www.amazon.com at no additional cost to you.⁣