I'm working on a Left-Handed Stitching book. It's a HUGE project, but I'm determined and am taking it one small stitch at a time. Yesterday I was working on a Threaded Backstitch and so I began to stitch on a piece of linen that I whipstitched some wool shapes onto. Once I had done one example of the Threaded Backstitch, I decided to go ahead and do a Double Threaded Backstitch. And once that was finished I thought – well wouldn't it be fun to do a couple more, one below the other?! Do you see what I'm having to deal with here? After I finished doing those, the gap between the Double Threaded Backstitches seemed to be calling out for a little something, so I did what anyone would do, and found some beautiful Stef Francis Silk Chenille and decided it was perfect to Couch. Swoon. And then there was a tiny space at the very top and so I stitched a 2-wrap French Knot, which looked like a little tumble weed. Perfection(!) and that made me feel happy. As I stitched, I thought I could hear some Silk Ribbon calling out to me, so of course I had to find it, retrieve it, and use it, because what else was I going to do? Ignore the call? No, I don't think so! So I made a little cluster of Silk Ribbon Roses to one side. And that's when it occurred to me. I'm NEVER going to finish this book if I continue to go down every rabbit hole I see.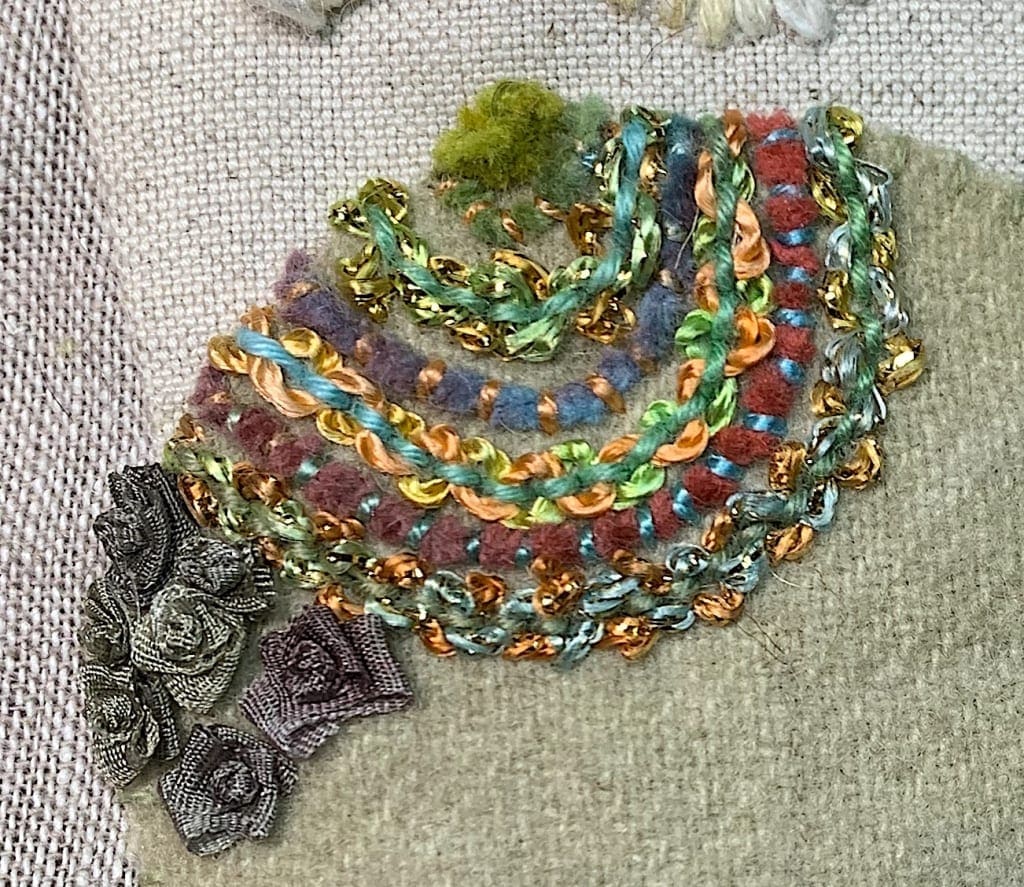 Except it's SO much fun to go down those rabbit holes and who knows where they might lead?! Some of my best discoveries have been deep within such holes, which means this book will take a little longer to do than I'd originally anticipated. Plus I'm using lots of photographs to demonstrate each step of each stitch and I intend to show how to end and begin a new thread, in case you run out in the middle of the stitch, as well as how to end the thread once you've finished doing the stitch. Those are a couple things I always wish to see, but rarely do in a stitching book and that got me wondering, what about YOU?
Tell me what you like to see in a stitching book. What do you dislike? What do you wish they showed? What do you wish they didn't show? What about text? Keep it short and simple or do you like longer explanations and even stories? What else? Am I forgetting anything? Tell me. Tell me everything.