Description
This wool needle roll is perfect for storing all your needles, yet small enough to fit into your bag. Perfect for travel. It is 16.5″ x 7.5″ when laid out flat, large enough to show off all your needles without having to leaf through pages, it is all there for you to see at a single glance. Ribbon ties bind it together so that you are able to tie it as loosely or as tightly as you like.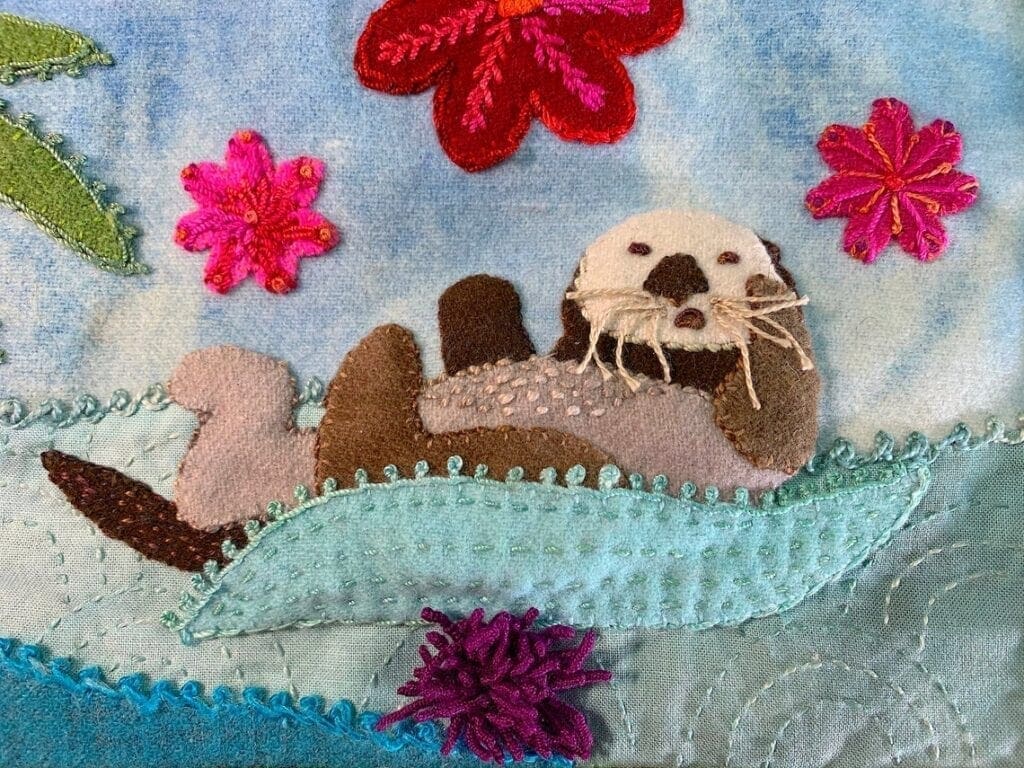 (I've also made a YouTube video showing how you can opt for a magnetic closure if you prefer.) You will get a number of PDF files – an extremely detailed instruction booklet with tons of colored photographs, including hyperlinks to my Youtube videos demonstrating each stitch I use AND the YouTube video Playlist – The Otter Needle Roll, which I created just for this needle roll, walking you through the entire process of making it, start to finish! To view the Playlist
If you are French-speaking and would like the instructions in French, my friend, Nadia Massoni Calloni has translated them for me and they are available to anyone who has purchased the design. Please just message me when you are checking out so that I can get them to you.
You will also receive templates for a left-handed needle roll AND a right-handed needle roll, you choose(!) as well as a colored pattern for referring to when you begin to appliqué.
I was inspired by the artist, Sue Spargo, who does amazingly beautiful hand stitching and layering, all with wool as her base, and by Sea Otters who happen to love eating Sea Urchins! It was a joy to design and make and I hope you will enjoy making it too! It can be a companion piece to my Rhino Fully Lined Zippered Pouch.