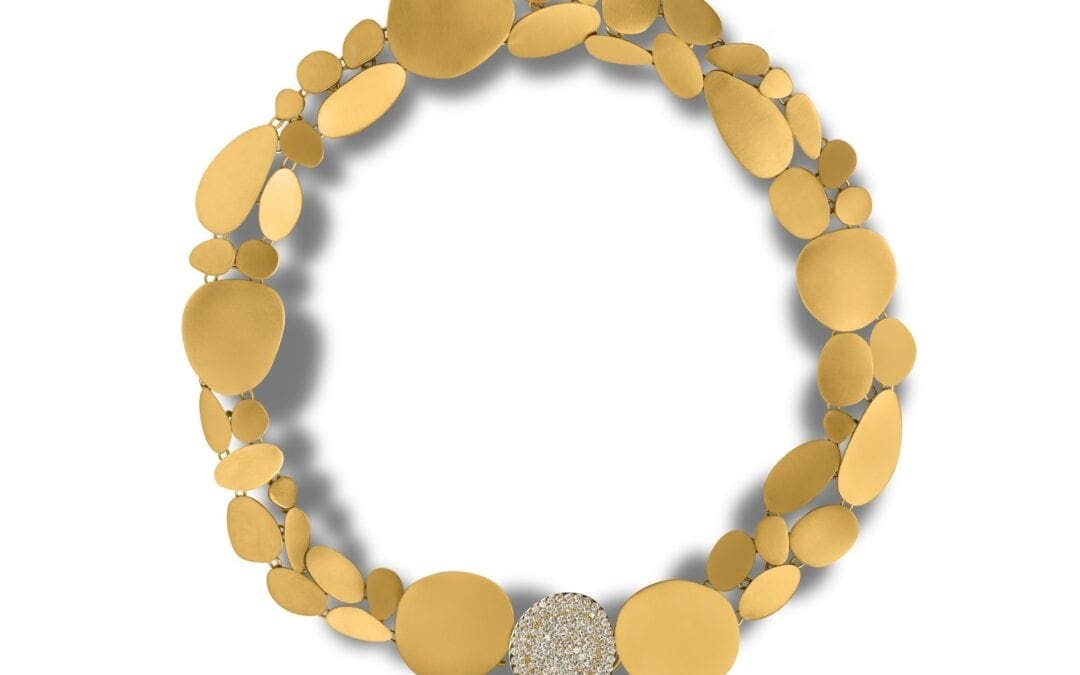 Balance.  People talk about it all the time.  Balancing a career with family.  Balancing time, balancing finances, balancing meetings, conference calls, parent/teacher conferences, holidays, ambition…  balance…  What does that even mean?  Who does it well?  Does anyone do it well?  Or do each of us do the best we can a minute at a time?
The first collection I put together was the Juno Collection.  I created it using hot wax I shot out of a gun on to a form.  It was 2007 about three years after my daughter was diagnosed with Autism.  About a year after I created the collection I was interviewed and asked, "So do you think this collection represents chaos and what was going on for you at the time?"  My immediate response was, "No!"  When I thought more about that question, I thought about how that collection represents the beauty of the unknown; I imagine it as a galaxy and the gemstones are stars.  It's about hundreds of threads, people, places, things and how everything intersects and how together we create something complex, intricate and how it's all interwoven.  That interviewers question had me thinking about what inspires us to create.  I realized that on a more practical level I needed to create a collection that dealt with balance and to me the essence of balance is in the ability to be flexible.  (I struggle with both!)  How do we do all we need to do in any given day and not have things fall through the cracks.  Is it even possible?
I don't know the complete answer to that, but the partial answer is being flexible.   The Transitions Collection was born with exactly this thinking in mind.  How could I create a collection of jewelry that met the varied and often disparate needs of a woman who is like me:  someone who has a career, children, husband, friends, travels and all that involves?  Someone who might need to be at a business meeting and yet have the flexibility to take a sick child to the pediatrician at the drop of a hat.  Someone who, in a given day, might need to leave work, go to a friend's book party or an art opening, before going to the theatre with their husband?  Or someone who travels for work, but needs to have a few things that are elegant for various evening functions.   What kind of jewelry could I design that would meet those women's needs and might reflect that kind of diversity in one's day?
The Transitions Collection was born!  It had to be comfortable, the jewelry had to move with you.  So I designed it so it became a part of you and you forgot you were wearing it.  To achieve this required intricate workmanship.  Each piece is hand fabricated and slightly different from the other.  You start with a base necklace, bracelet and/or earrings and add beautiful gemstones, a clasp, or extend the necklace so it can be worn over a turtle neck.  The bracelet is a bracelet, but it is also an extension to the necklace.  A diamond pavé clasp is added to the base necklace and the whole look changes.  Flexibility, balance,  beauty.
Keeping all of this in mind, I am having a "play date with Jewelry" event here in New York City May 8th & 9th from 11am – 5pm.  If you'd like to join me in playing and seeing the Transitions Collection RSVP either by commenting here or through email ~ ariane@arianezurcher.com.