Description
This Rhino zippered pouch is fully lined and large enough to hold a tablet, phone, toiletries, notions, knitting projects etc. It is 12″ x 12″ and has a slight curve at the top where the zipper is. You will get several PDF files – complete instructions, including lots of colored photographs, templates for the Rhino wool top as well as templates for all the pieces: top, bottom, lining, and a list of all the materials you will need so you can make this project yourself. If you are french speaking and would like these instructions in French, please download the French Instructions as well! Thank you, Nadia Massoni, for your excellent translation.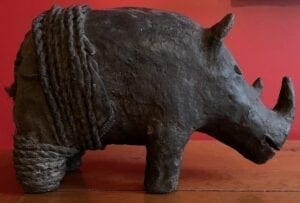 I was inspired by the African Rhino pictured here, which my husband and I bought years ago. In the instructions, I write more about all of this. This piece is designed using Sue Spargo's wools and threads. I'm using the names Sue Spargo uses on her website for each product, which are listed in each section of the instructions. Most of the supplies can be ordered at www.suespargo.com. This pouch was a joy to design and make and I hope you will enjoy making it too!
Also, matching this, is my Otter Needle Roll, if you'd like to look at that!
If you'd like the story behind this pouch, go to my blog – Where Art & Life Meet
Happy Stitching!