It all comes down to what you're willing to say out loud. Which, one could argue, if you're asking yourself this question it's probably best left unsaid. You know?
However, never one to stay quiet, I did just post a video regarding The Ice Cream Situation. You can view it below.
So there's that.
Do you ever feel like there's so much going on you can't really keep up and so you end up being less productive rather than the reverse simply because it all feels like too much? It's all about balance, I think. That's kind of what's been going on around here lately. Nothing bad, all good things, but just a lot of things. So I'm scrambling, and feeling a bit like a hamster on a tread mill, moving quickly but not really getting anywhere. That's how it feels anyway. I know this isn't the truth, but it feels that way. Feelings are not facts. Hence the deep dive into The Ice Cream Situation. It's okay, I've extricated myself and am now ready to face my never ending "To Do List".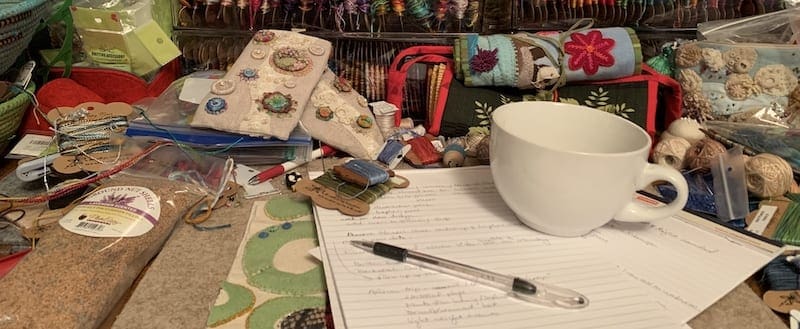 I've written about the To Do List before. It's kind of an essential part of my day, a kind of road map to follow and then whatever doesn't get done gets rolled over to the next day. Kind of like frequent flier miles or data storage on your phone, except there are no hidden costs. A win-win, right? Well, sort of, except that sometimes that to do list feels like an anchor so then one has to ignore it or make the decision that it's a "to do tomorrow" list. But you can see where this leads, can't you? Fortunately I don't often procrastinate and my To Do list can be very bossy, but in a good way.
To Do List: email so and so.
Me: Right. I'll do that in a few hours.
To Do List: follow up with a phone call.
Me: Yes, ok. I'll do that in a few hours.
To Do List: Give it 24 hours then email again.
Me: Oh all right. I'll send them an email now.
To Do List: Work out cost of thread kits
Me: Ugh.
To Do List: Work out cost of fabric kits
Me: Isn't there anything on this list that is actually fun?
To Do List: Work on improv piece.
Me: Oh! I can do that!! That will be fun.
To Do List: Work on Abstraction piece.
Me: Oh, yes, another fun project. I'll pull that out.
To Do List: Clear up sewing machine desk area.
Me: Right, now where is my improv piece?
To Do List: Website Issues – (and then a three page list of things that I need to learn, figure out or actually do)
Me: I love my improv piece. That's what I'm going to work on.
And so it goes. I've found that if I put at least a few things on the list that I really, really love doing then I can usually start on that and then work in a few of the not so fun things in between. Kind of like when you're hiking and get a blister and then keep going anyway because you know the view at the summit is going to be spectacular and you don't want to miss it.
Just like that.