So I shot a video yesterday because I was feeling a little down and wanted to try and jolt myself out of it. I also went to the gym, rode a bike for a half an hour and then decided it would be a great idea to sprint on the tread mill for a few minutes only to stop after just five because I thought I was going to either puke or faint, take your pick. I'm pretty sure this falls under the TMI category, even though it is an accurate description of what happened. In any case… I was feeling a little down or as I say in the video, I was in a funk.
And then I compared what I was feeling, to a petulant child or a very loud, bossy color, like red or magenta or turquoise blue, which can easily take over a project if you're not careful. I call those colors divas. And here's the thing, divas are great, especially in small doses. If you have too many divas all together they start fighting and that just never ends well. So anyway I talk about all of that and then I talk… well you can watch the video.
Except that after I shot the video, uploaded it and posted it, I thought – I hope no one thinks this is a commentary on depression or some of the really awful things people feel and go through. Because I wasn't doing that. This was a comment on that feeling of having lower energy and just not feeling as I typically feel. I have experienced depression and this, feeling in a funk, doesn't come close. So I just wanted to clarify that.
Okay.
Whether it was the exercise, talking about how I was feeling, getting a little stitching done on my improvisational stitching piece despite feeling a bit down or the fact that our next trip that we've been planning was looking like it might not happen, but then we did some more research and are thinking that maybe it will after all, or maybe it was a combination of all these things, who knows? Anyway the upside is that I'm feeling like myself again. You know, energetic and basically pretty upbeat. I also had a lovely afternoon with a dear old friend and took a little walk on the Highline. All of this taken together cheered me enormously.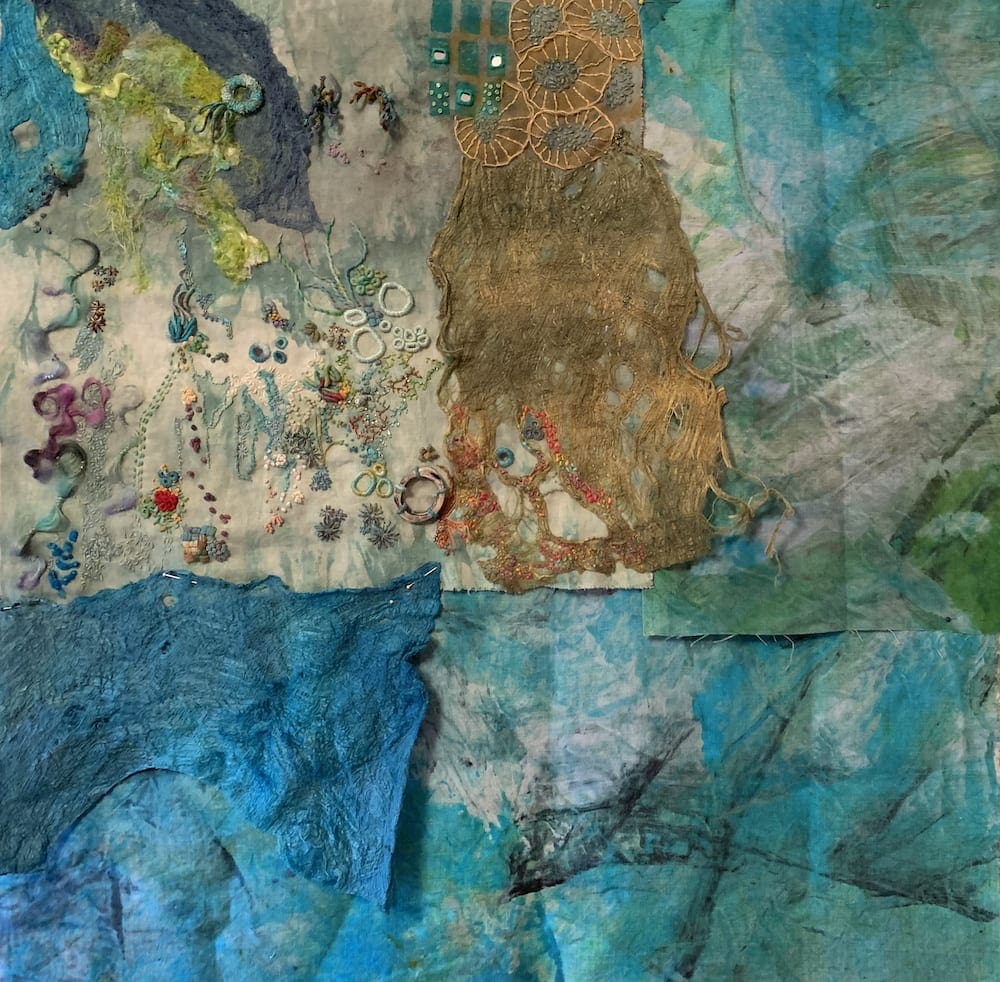 To sum up: Radical Self Care. I didn't intend to embark on a day of radical self care, but that's essentially what I ended up doing without meaning to. (However one could argue that sprinting to the point of vomiting or fainting does not fall under the category of self care, so there's that.)
So what's on for today? A little reading from Marcus Aurelius' Meditations is in order and then, who knows?