As I mentioned in my last post, I put my hand stitching aside in order to take a Pat Pauly virtual workshop. It was all about line, setting, composition and boy did she pack a lot into those two days. So much fun!
I'm not a quilter. I just have to say that. I mean I love quilts and I love seeing what others do, but I cannot sew seams so that they meet perfectly, nor can I manage to make those points that people do with ease, and a 1/4″ seam on any kind of regular basis baffles me. If I manage to get one, it's a gift, and I appreciate the beauty of it, even when using a 1/4″ seam sewing foot, I still don't seem capable of it. The fabric bunches up, the little guide line gets in the way, oh right, it's there to help me, but it never really does. Anyway, the whole thing ends up as a disaster, but Pat… Pat's work is much more fluid and isn't exacting, it's improvisational and she talks about how the various parts need to speak to each other. This is exactly what I say and do when I'm hand stitching. Is this area having an interesting conversation with this other part? Is this thread bossy and taking over? This is a language I speak!
But then there's the whole using a sewing machine aspect to this sort of work. I get the appeal, it's a whole lot faster than hand stitching and one can do things that you just couldn't do hand stitching, but it still comes with its own set of pitfalls. At least it does for me. On day 1 of Pat's workshop everyone was racing ahead with the next set of instructions on setting a shape into another piece of fabric and things seemed to be going well. I mean the whole 1/4″ seam thing continues to elude me, but I've made peace with that, so all was well.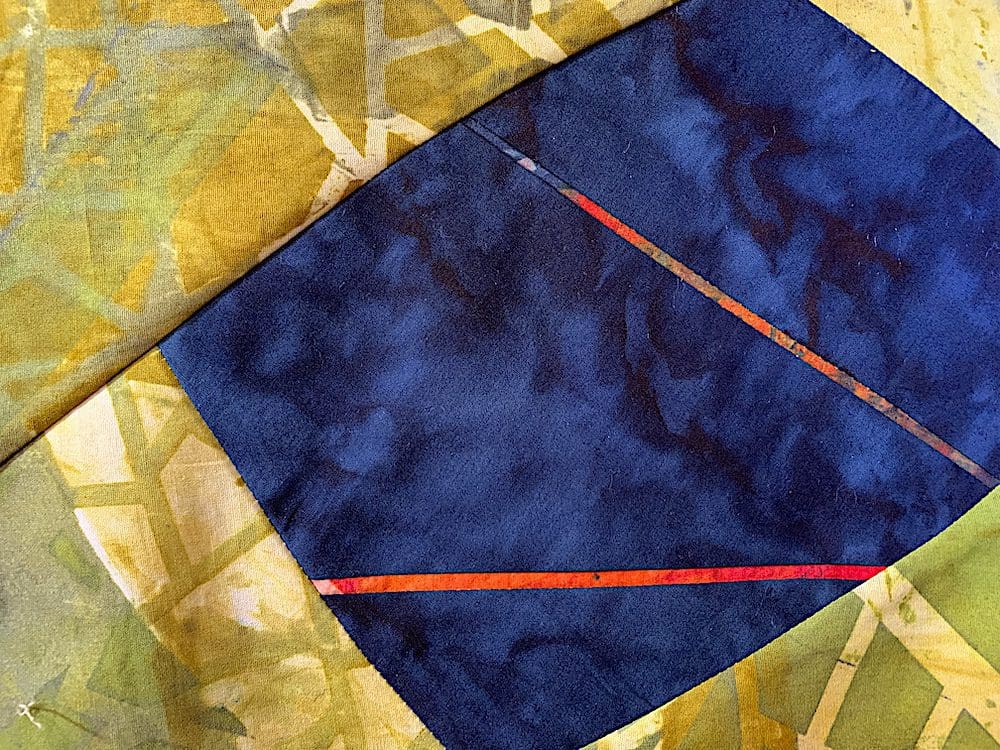 And then my machine ran out of bobbin thread. Now normally this wouldn't be cause for great distress, but in my case, this is a newish machine, having traded in my Bernina 880 (which was in the shop more than it wasn't) and so here I was with my new Bernina 790. It's a beautiful beast of a machine that uses different bobbins and a different bobbin case than I'm used to, so after a little struggling I managed to wrestle the bobbin out of its little case and then tried to put it onto the bobbin winder on top of the machine. Except that it didn't fit. I could hear Pat in the background giving valuable information that I would no doubt desperately need, and yet here I was with a bobbin that I couldn't figure out how to refill. No one must ever know, I thought as I desperately tried to make the bobbin winder work. Finally in a moment of panic I jammed the bobbin onto the winder and then manually held the little lever so that it would wind. Sort of. I then yanked the thing off, put it back into the machine and tried to sew, only now I started getting an error message.
Having now completely missed the last important instructions from Pat, something I knew was vital information to have, but never mind, getting the bobbin to work was taking all my time and energy. What to do? So I did what I do when my computer or phone starts behaving oddly, shut the whole thing down and reboot. Every now and then Pat would say, "So how's it going _______________" and I would say a silent prayer that she wouldn't call on me and then I'd have to confess to everyone that not only was I incapable of sewing a 1/4″ seam, but I also had no idea how to refill the bobbin. I could hear everyone else in the background, machines purring happily as they created tiny works of beauty, while I, in all my shame and humiliation, couldn't manage something so simple and basic!
As I waited for the machine to turn back on, I went in search of my instruction manual, only I'd done a very thorough clean up just the day before and so who knows where that thing was!? Finally I located it and saw that I'd put the bobbin upside down onto the little bobbin winder. It's a wonder I didn't break the machine! But never mind, eventually I got the thing working and off I went, making tiny skinny lines in various places. cutting up new pieces, placing shapes within shapes and having a blast. Even better, no one seemed to notice that I was having a tiny crisis!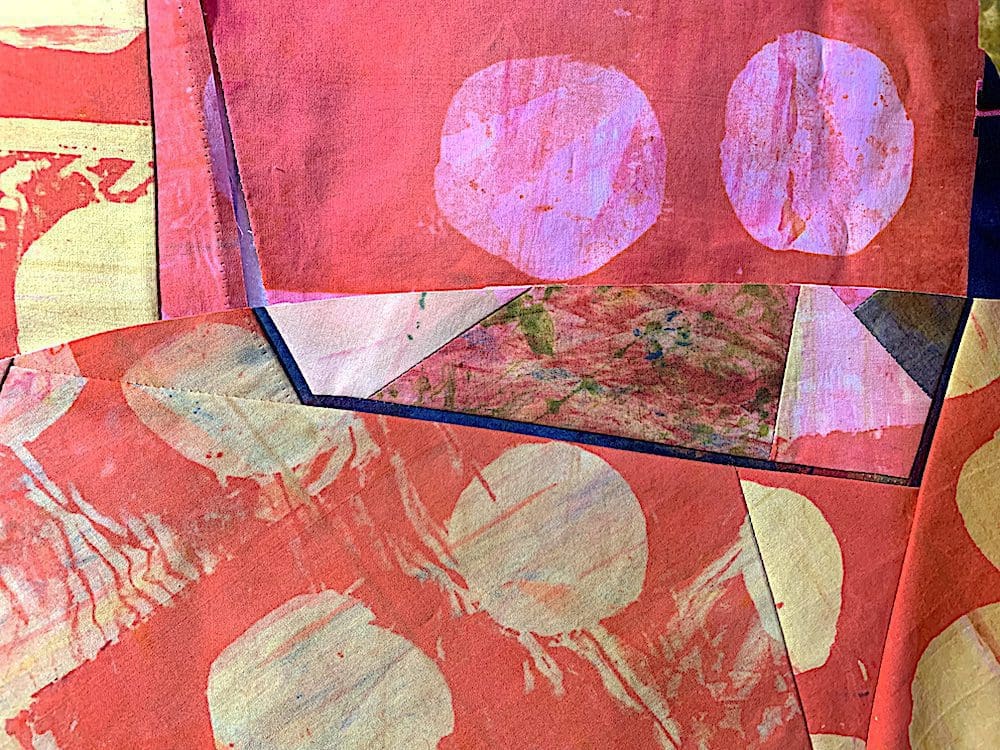 I would show you the whole thing, but that will have to wait until another day when I have something that's not quite so "work in progress"!
I have this dream that one day I will be able to keep my sewing machine out all the time AND have my hand stitching and threads all out in another part of the room so that I can seamlessly move from hand stitching to working on the machine and back to hand stitching without having to put everything away each time!
One day…