Stitch, put on the design wall, evaluate, consider, take down, add a new element, stitch, put back up on the design wall, take a photograph, consider, have an idea, take down, thread up a new color, take a chance, take a risk, take a breath, stitch and then the tears arrive.  Not a few drops at a time, but a torrent soaking the fabric and the thread I've just stitched.  In the midst of this I briefly wonder whether the thread colors will bleed. They say grief comes in waves.  The threads don't bleed, I've learned.  At least not yet.  Stitch anyway.  Stitch through the grief.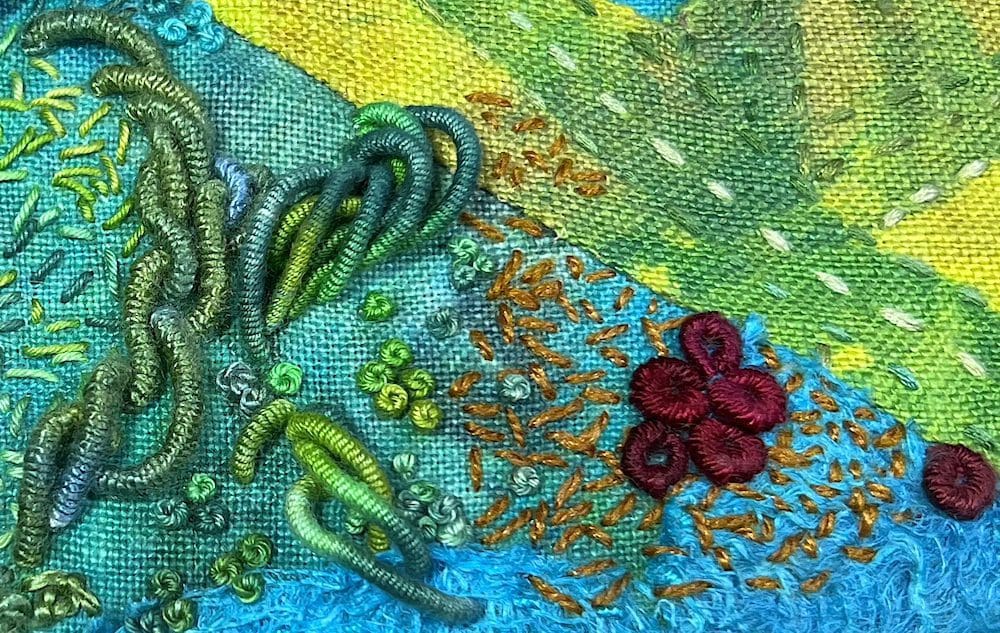 It catches you off guard.  That's the thing.  That's what makes it hard.  It's unpredictable. Erratic.  The violence of it when it arrives, unannounced, suddenly, swiftly; how do you prepare for that?
You can't.
"How are you?" people ask.  I'm surprised because I'm just fine.  I'm busy, I'm working, I'm teaching, my old energy levels are returning, they aren't back to what they were, but really, I'm just fine! 
"I know you had a strong bond with her" or "I know how close you two were"  or "I know…"  And the pain slams into me, taking my breath away. No, I'm just fine, I think, but I'm not.  I'm not fine.  I'm grieving.