This weekend we flew to Aspen for my mother's "Celebration of Life."  I forgot to take photographs at the Celebration, but I did take a couple when we arrived or I should say, barely arrived.  We were the last flight to get in. When we landed one of the guys unloading the bags said to me, "you are SO lucky!"  I thought he was referring to our bags and said, "Really?  You mean our bags almost didn't make the flight?"
"No!  Ten more minutes and the plane would have had to turn around and go back."
Evidently the visibility was deteriorating by the minute. So yeah.
Surrounded by family and good friends, the Celebration of Life was a beautiful tribute to my mother with an outpouring of love, memories, laughter and sadness. But mostly joy.  Joy that I am fortunate enough to have such a big, wonderful family, with lots of siblings, and extended family, all of whom I love and am close to.  I was able to spend time with one of my nieces that I haven't seen in ages, and spend time with cousins, distant cousins, extended family and many, many friends.  And then, dancing around the edges of all of that was my mother.  My beautiful, smart, complicated, funny mother.
Prior to flying out west I was feeling a bit grumbly about the whole thing.  It's not easy flying out, it's expensive, I didn't want to go, but lurking under all of that grumbling was the feeling that this was the final goodbye.  By coming out to where she lived and having this very public "ceremony" we were closing a chapter.  And that… that felt far too painful to contemplate, much less really feel and be acutely in touch with.  That we also arrived in a snow storm, with flight delays and everything else that comes with traveling with four other people, it seemed to confirm my feelings that all of this should have been done via Zoom.  And then something bizarre happened.  On the final leg of our trip getting there, I was seated next to a young man who was going through a really, really difficult, as in life transformative, time.  He kept apologizing to me for spilling his "guts" and reassured me that he never does this. He poured out his troubles during our 45 minute flight and told me what was going on with him and it made me realize how important rituals are.  How ceremonies aren't for any one person, but more for the collective group, the family, the community and in our recognition and attendance we heal individually, but also together.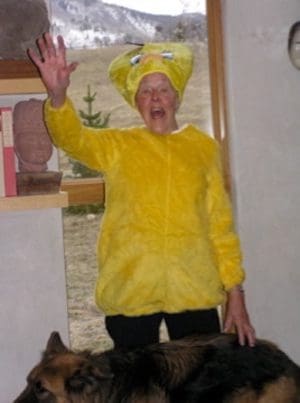 My mother dressed in a Tweety Bird Costume during one of her many costume parties that we had up at the ranch.
As it turned out, one of my brothers was quarantined in Brussels with Covid and so couldn't get out and another of my brothers was unable to come, but attended via Zoom, as did a number of other people.
We started the ceremony with a pianist playing Mozart and ended with Ragtime, one of her favorite genres.  Everyone who spoke, spoke eloquently about my mother and there was laughter and memories and sadness and connection.  The following day I fell apart.  It was as though I'd been holding things together up until that point, but then couldn't keep it up.  I felt exhausted and completely and utterly overwhelmed with feelings: grief, sadness, love, gratitude and everything in between.  Thankfully I was with family.  Family my mother was once the matriarch of.  She is gone now and yet she resides in all of us.  I can just hear her adding, "a dubious distinction…" I'm so, so grateful to her, and to all that she left behind.
During this bizarre time of Covid any gathering has the potential to be a superspreader event and while I am keeping my fingers crossed that this was not one of those events, I have already heard that 6 people who attended have now tested positive.  My immediate family has not, at least not yet, but we will continue to monitor ourselves.