Yup, you read that correctly. This post is being written within my brand, spanking, new, website. So let's take a little look around, shall we?! (A quick note: my website is experiencing a few growing pains, so pages may load slower than you're used to due to high volume, but we're working on it.)
First things first. See the horizontal menu bar just above this post? That's where you can navigate to my "Stitching Shop" and my "Workshops". It's also where you can browse and see all the various things I'm offering and teaching. In the workshops section my next workshop is the Dorset Buttons Gone Wild, which is the one to take if you've never made a Dorset Button before or are rusty and want to know how to line those spokes up so that your center is… well, center.
I also cover what to do if you run out of thread while still wrapping the plastic ring. SPOILER ALERT: the answer is NOT throw the whole thing out! What to do if you run out of thread making those spokes, again the answer is NOT toss in the garbage and go get a snack. What to do if you run out of thread while stitching that whipped woven circle. In other words this workshop takes you from start to finish how to make a traditional Dorset Button. And then we go a little rogue and I show you a few other things like how to add a bullion knot around the edge or add French Knots or maybe a few beads and while we're at it, how about some Drizzle Stitches? Yup, we cover ALL of that and more. AND we have a blast, so there's that too. Three hours of fun, fun, fun and you'll come away with a finished Dorset Button or two.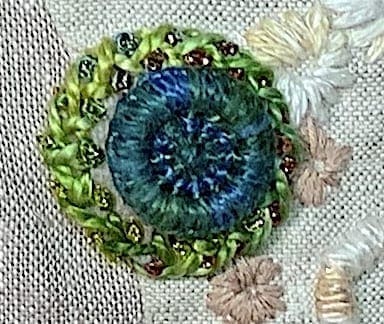 Now just because I told you all about the Dorset Button Workshop doesn't mean you should stop there. I'm offering three other Dorset Button workshops, the Advanced Dorset Buttons Gone Wild Workshop, which is one week after the more basic one, so you can sign up for BOTH. I know, I'm SO helpful.
And then there are two more that I designed new products especially for and those designs and instructions are not available anywhere else. Those two workshops are the Dorset Buttons Gone Wild Scissor Case Workshop and the Dorset Buttons Gone Wild Glasses Case Workshop. They are 3-day workshops where all the information and material from both the Dorset Buttons Gone Wild AND the Advanced Dorset Buttons classes will be covered as well as so much more! We will make a scissor or glasses case featuring Dorset Buttons from start to finish. So we will be covering all the basics and then so much more! This class is intended for all levels of stitchers, from the newbies to the old hands.
If Dorset Buttons aren't your thing, never fear, I have created a 2-day workshop for those of you who love looking at hand stitching, but have not actually done it before. This workshop is called The Basics. I cover everything you'll need to know to start creating and hand stitching your own pieces of hand stitched art! We begin with a 6″ or 8″ square and at least one other element that we will be adding. I cover needles, threads, knotting, ending, beginning, all the basic stitches, including whipstitching, needle turn appliqué, design basics, composition, the elements of design, color, and how to design a rocket ship. Oh I'm just kidding and also checking to see who's paying attention. There will be a quiz at the end of this post. Again, I'm kidding. 😂
And finally I'm offering my Improvisational Stitching Workshop again. This is a workshop I just wrapped up last weekend, and am offering again. It runs for 5 consecutive Saturdays beginning in July. I've written a pretty detailed day by day break down of what we cover, so I won't do that here again.
And then for all you website/virtual workshop adverse types, I have a new Youtube video premiering today at 11am EDT. That's in just a few hours from now. If you've never done cut work before, this is the video for you! Join me and we'll watch it together. ❤️