Last fall I decided to design my own bed-sized quilt.  I wanted a quilt that would remind me of spring and summer, that was colorful and had big organic shapes that inspired cheerfulness.  This was before the election and though there were many things being said that were ominous  – calls for great walls to be built, mass deportations being touted as campaign "promises", comments about bringing back the "good old days", leading many of us to wonder to whom those "good old days" applied, (obviously not women, minorities, and anyone who didn't conform to traditional gender roles and relationships) all this from a man dogged by bankruptcy, lawsuits, accusations of fraud and sexual misconduct, a man who bragged about assaulting women, not paying his taxes, and encouraged his supporters to physically assault those who voiced opposition to him – still, it seemed there was room for optimism, and, if nothing else, the elections hadn't taken place yet.  Those months and weeks before the election now feel like the "good old days".
So in the midst of all that, I decided to design my own quilt and was inspired by the shapes in a fabric covering a chair and couch my husband used to have in his office at his advertising agency, that now occupies the western portion of our bedroom.
I wrote about this quilt, that I began designing and intended to make, just after I'd chosen all the fabrics for it.  I discussed the process of taking a sketch and translating it into an actual quilt.  That post is 'here'.
Matisse reminds me of the playfulness that can be a part of life if we allow it in and the shapes he created make me smile.  The colors he frequently used tended toward bright, primary colors, and I decided to stay close to those as well.  It took ages to figure out where everything would go, what fabrics to use, how to fit everything in to the size quilt I knew I wanted.  The quilt kept getting bigger, and even though it is intended for a twin bed, I wanted it to be long enough that I could tuck it under and over pillows. I really wanted it to be the size of a bedspread.
And then the elections took place and I threw myself furiously into escaping what was now to become our collective reality learning how to dye my own fabrics.  I took several classes at the Academy of Quilting taught by the extremely,  talented, artist Elizabeth Barton.  Between learning to dye, which I love, love, LOVE, playing with colors, and sporadically working on my "Ode to Matisse" quilt I managed to avoid getting too depressed by the events and endless drama that has now become commonplace with this new administration.  Still, I knew I'd have to make a concerted effort to concentrate on my Matisse quilt if I was ever going to finish it.  So about a month ago I began working on it daily.  The free motion quilting, which I'm very new to, was challenging and I ran into lots of tension issues, but then went back to one of the dozens of Craftsy classes I have enrolled in and was reminded not to be afraid to turn the tension down as far as needed in order to get the threads to behave with each other, no matter how imbalanced that relationship might seem.  Read whatever you like into THAT statement, but it did seem ironic given who now occupies our White House.
There are many wonderful free motion quilting classes on Craftsy, but the two I particularly love are Free Motion Quilting Essentials taught by Christina Carneli, her blog is A Few Scraps and Divide and Conquer: Creative Quilting for any Space taught by Lori Kennedy, who also has a blog, Inbox Jaunt.  They are both wonderful.  Christina also teaches several other free motion quilting classes for those who are more experienced.  But for me, starting out with her class was perfect and just what I needed to attempt this: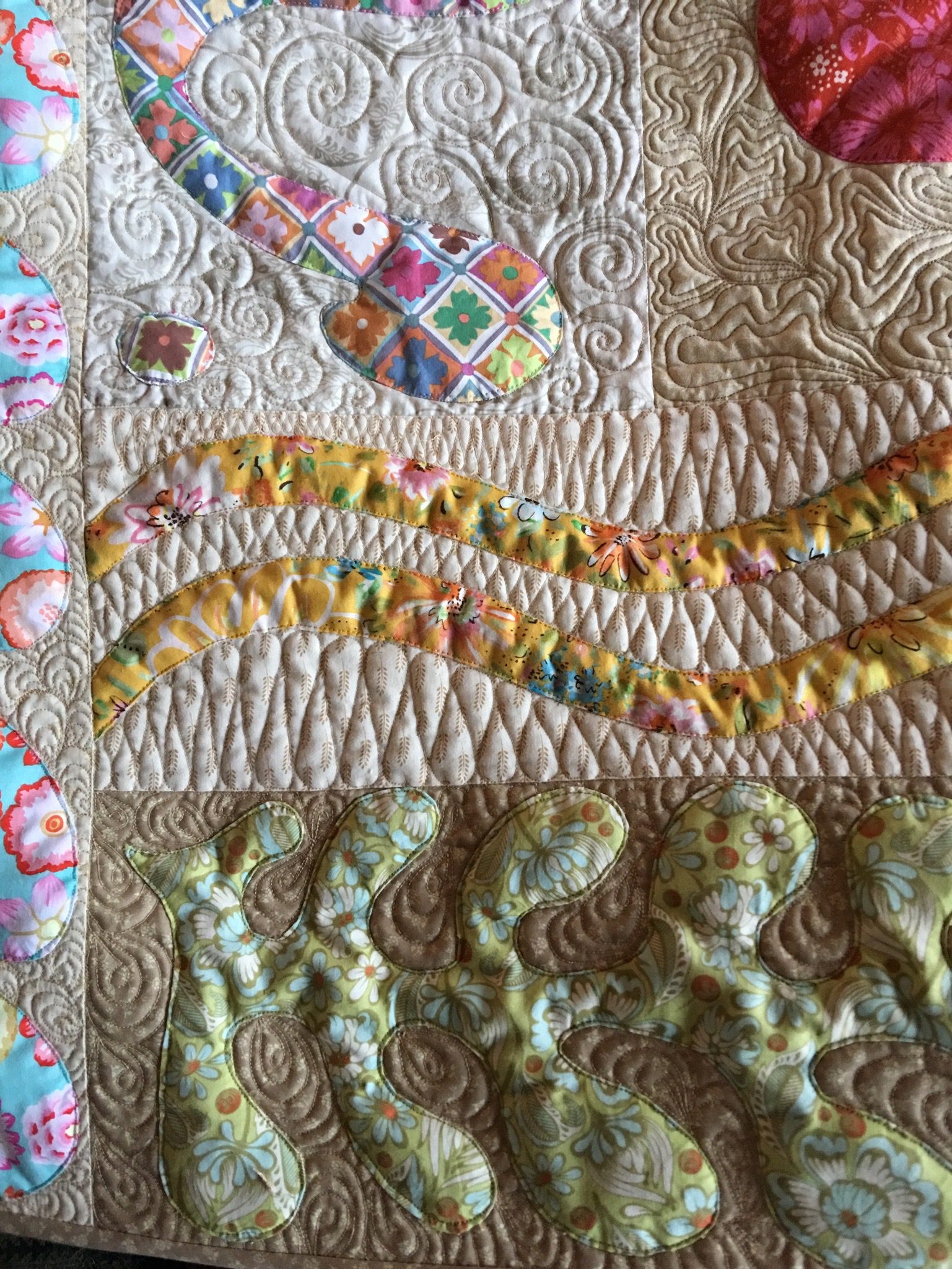 and this: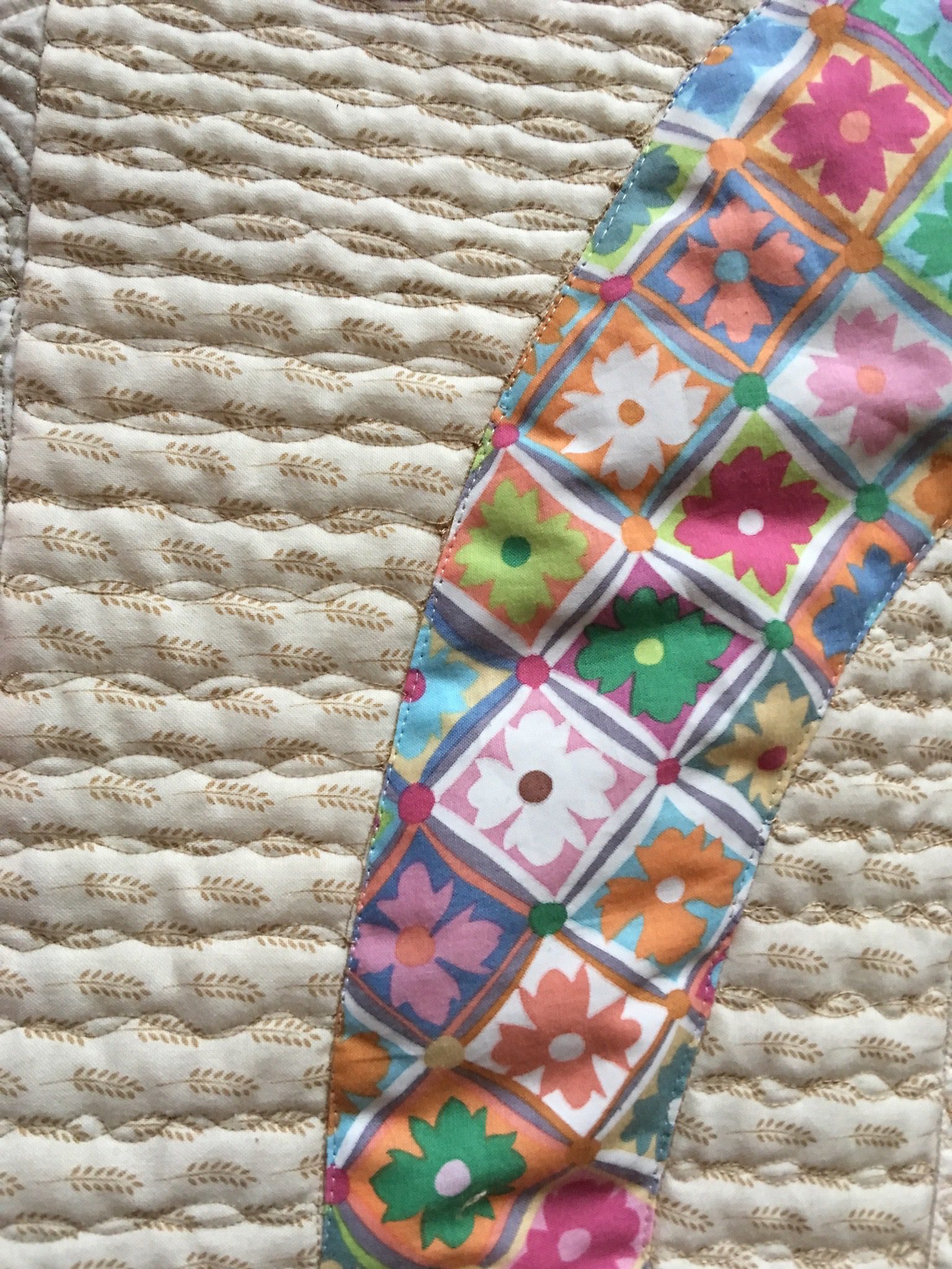 and this…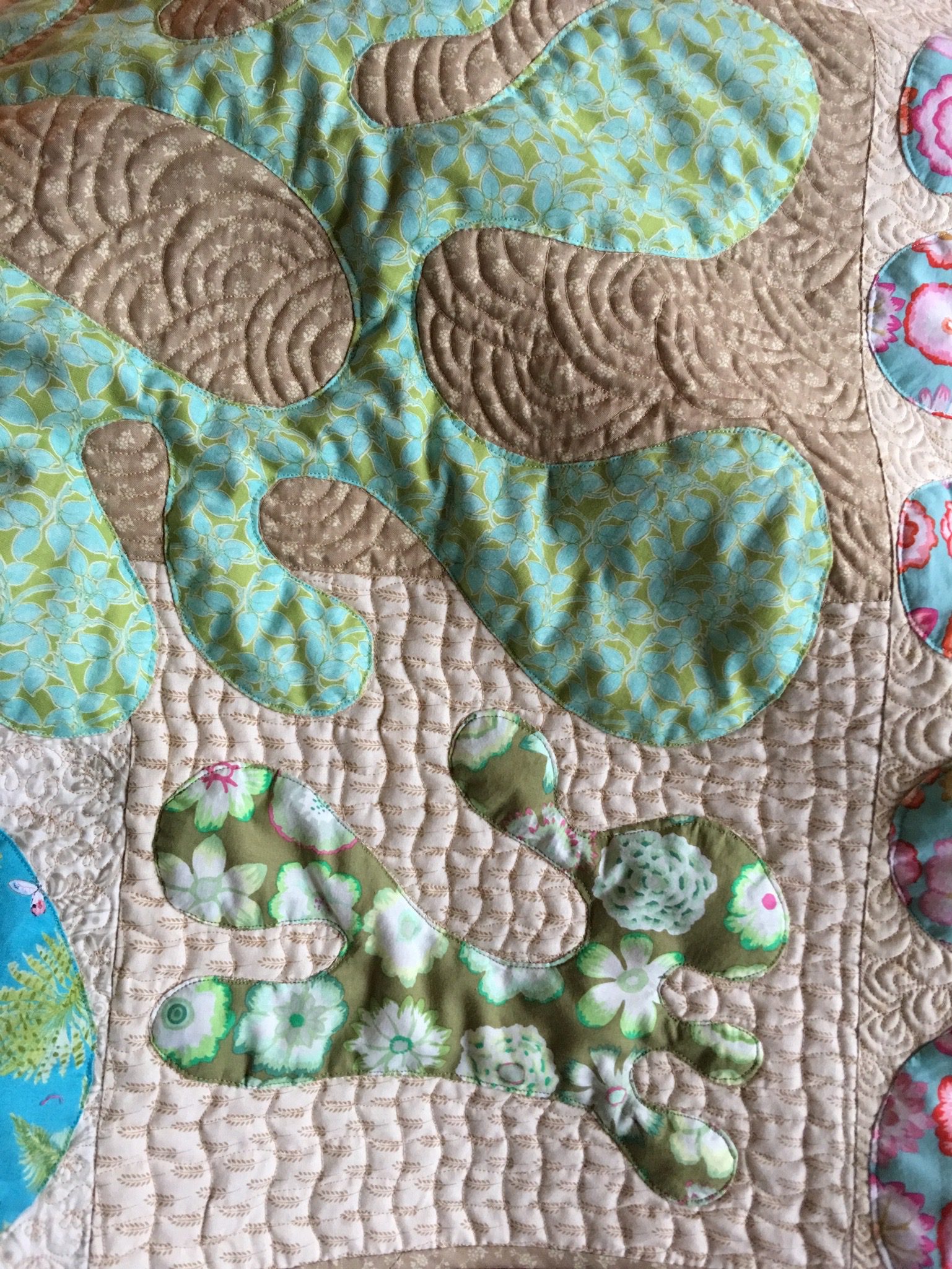 And this…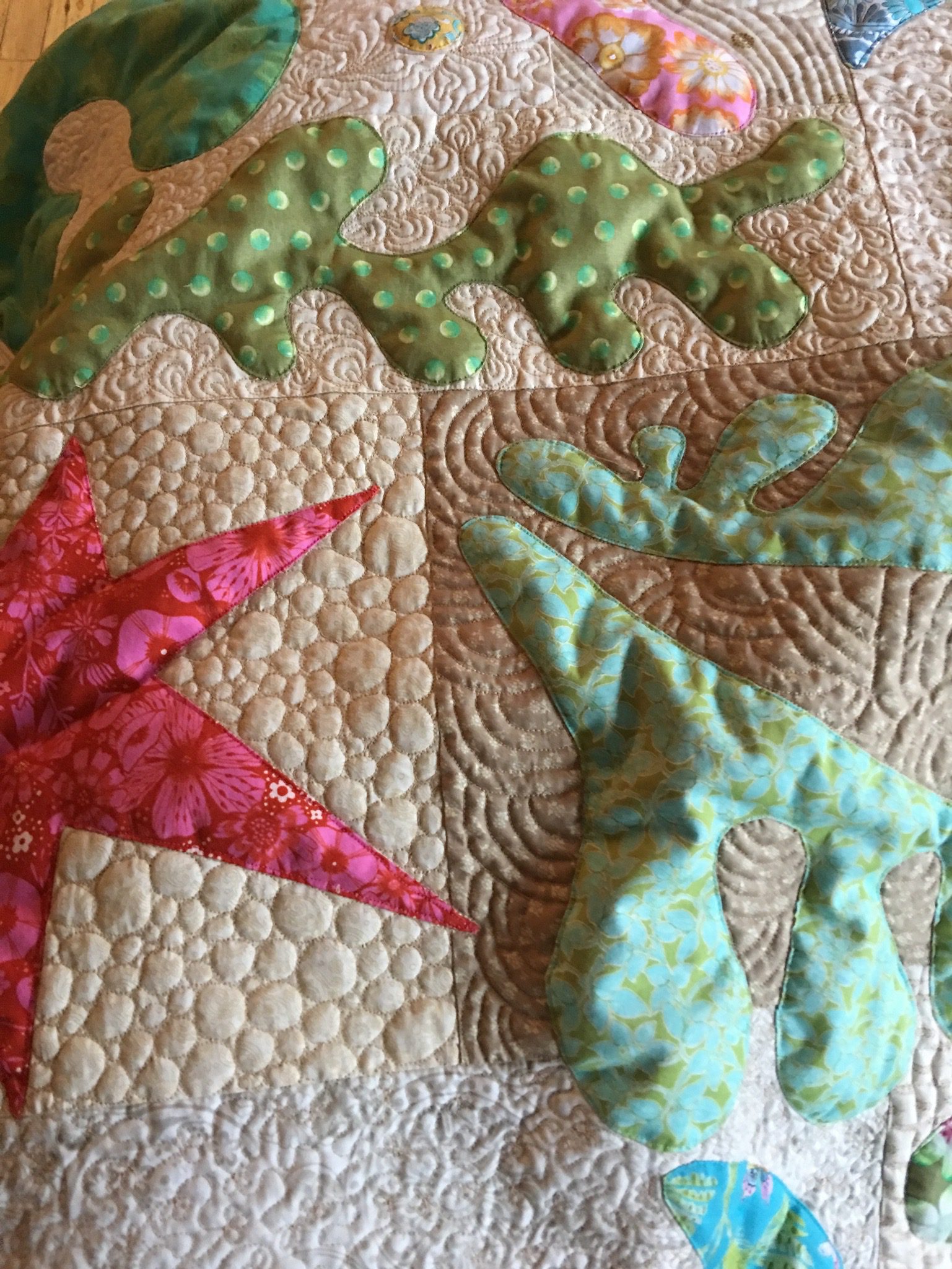 From Lori's class I began with doodles of things I saw others doing and then took it to the quilt.  Patterns like this…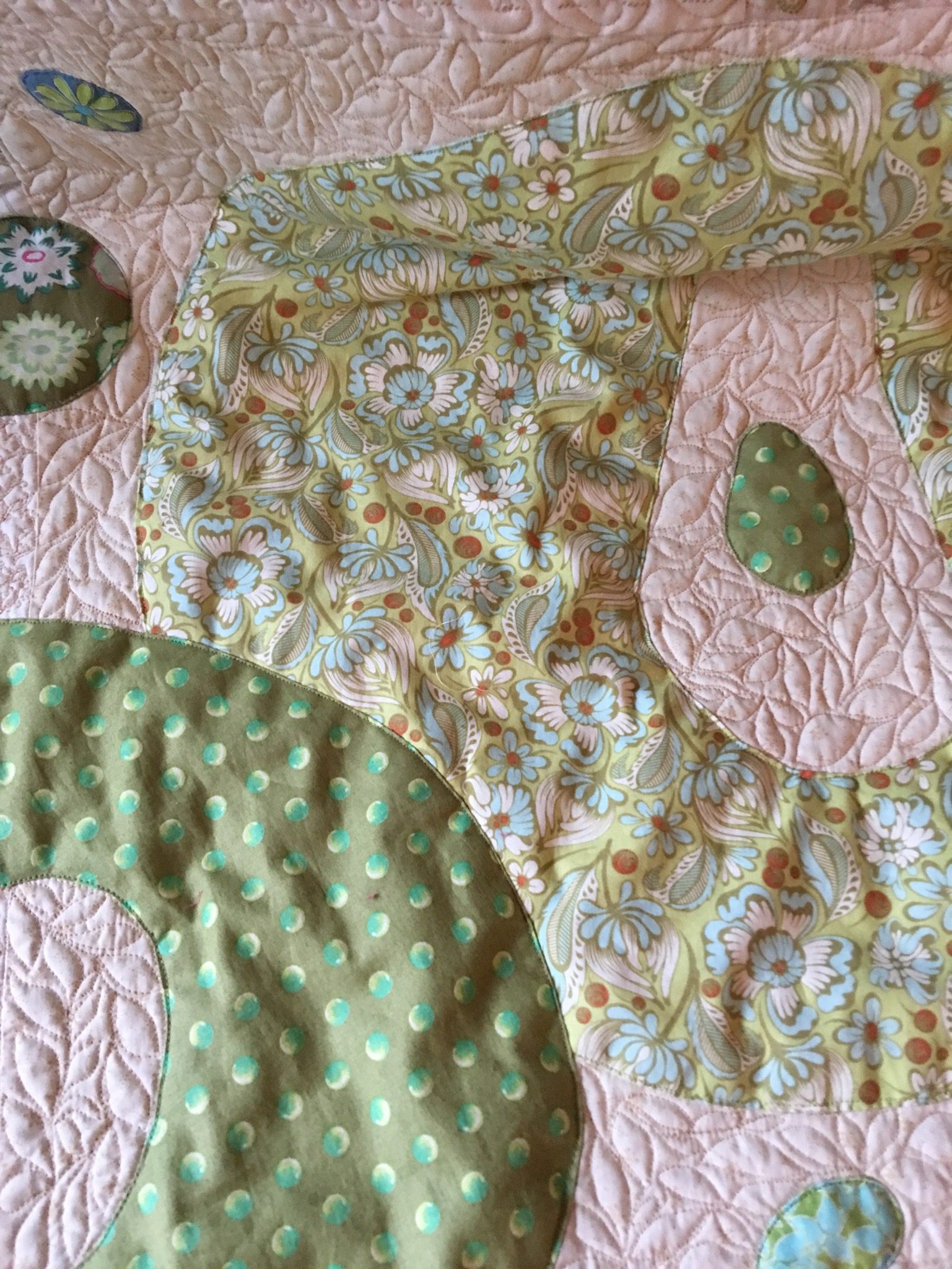 and this…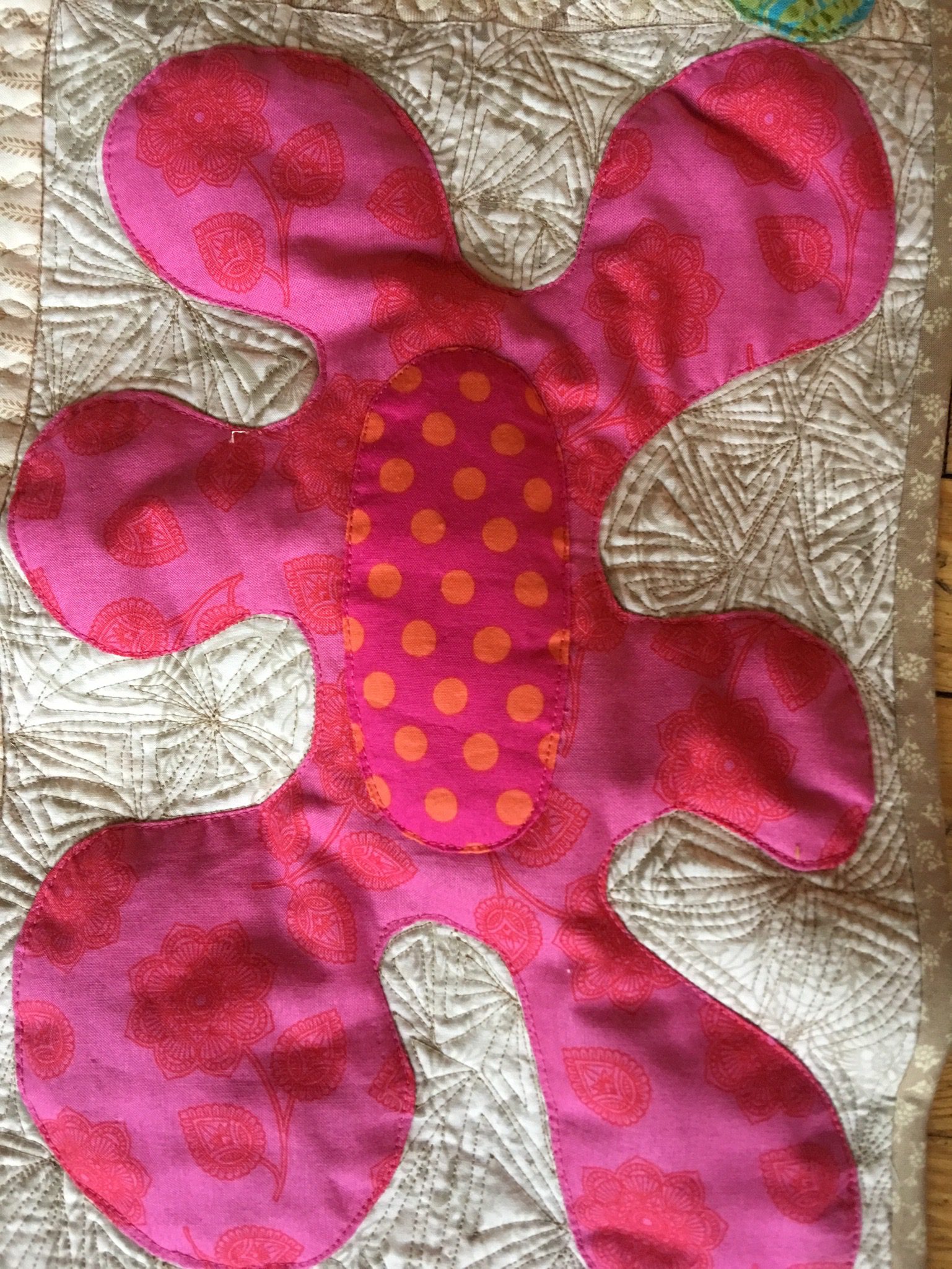 and this…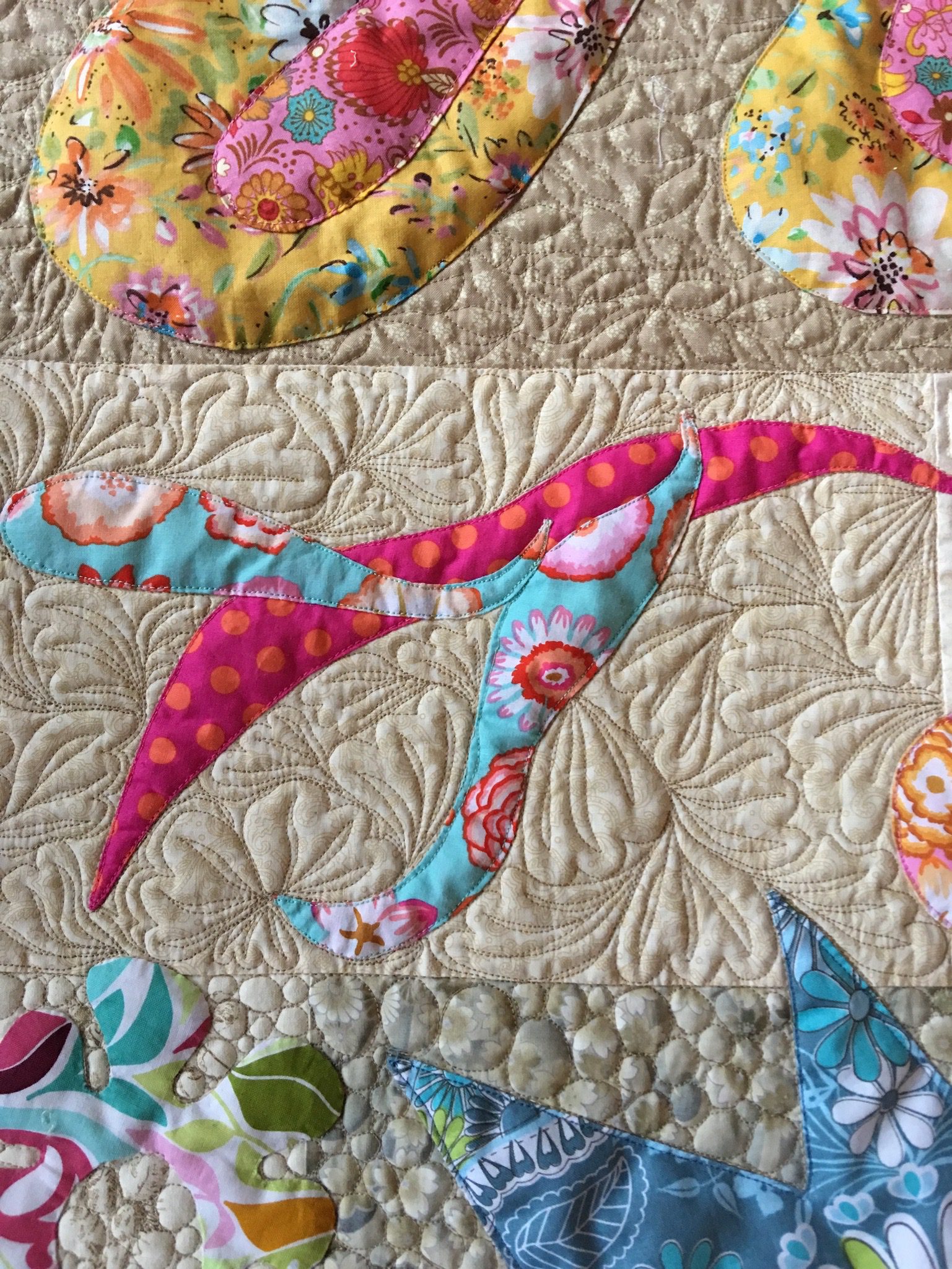 With each block, I tried a different free motion quilting pattern that I thought complimented the shape in the block.  I know many feel the shapes themselves should also be quilted and I may have to go back and quilt the larger shapes, but I wanted them to pop, so decided to leave them alone.  Once all the blocks were quilted I agonized over the binding.  Eventually I opted for the darkest background beige fabric I had used.  I cut it on the bias, pieced it together and then following the instructions in Mimi Dietrich's book, Happy Endings   I bound the whole quilt with mitered corners.  I added a label and voila!
And here's a shot of the label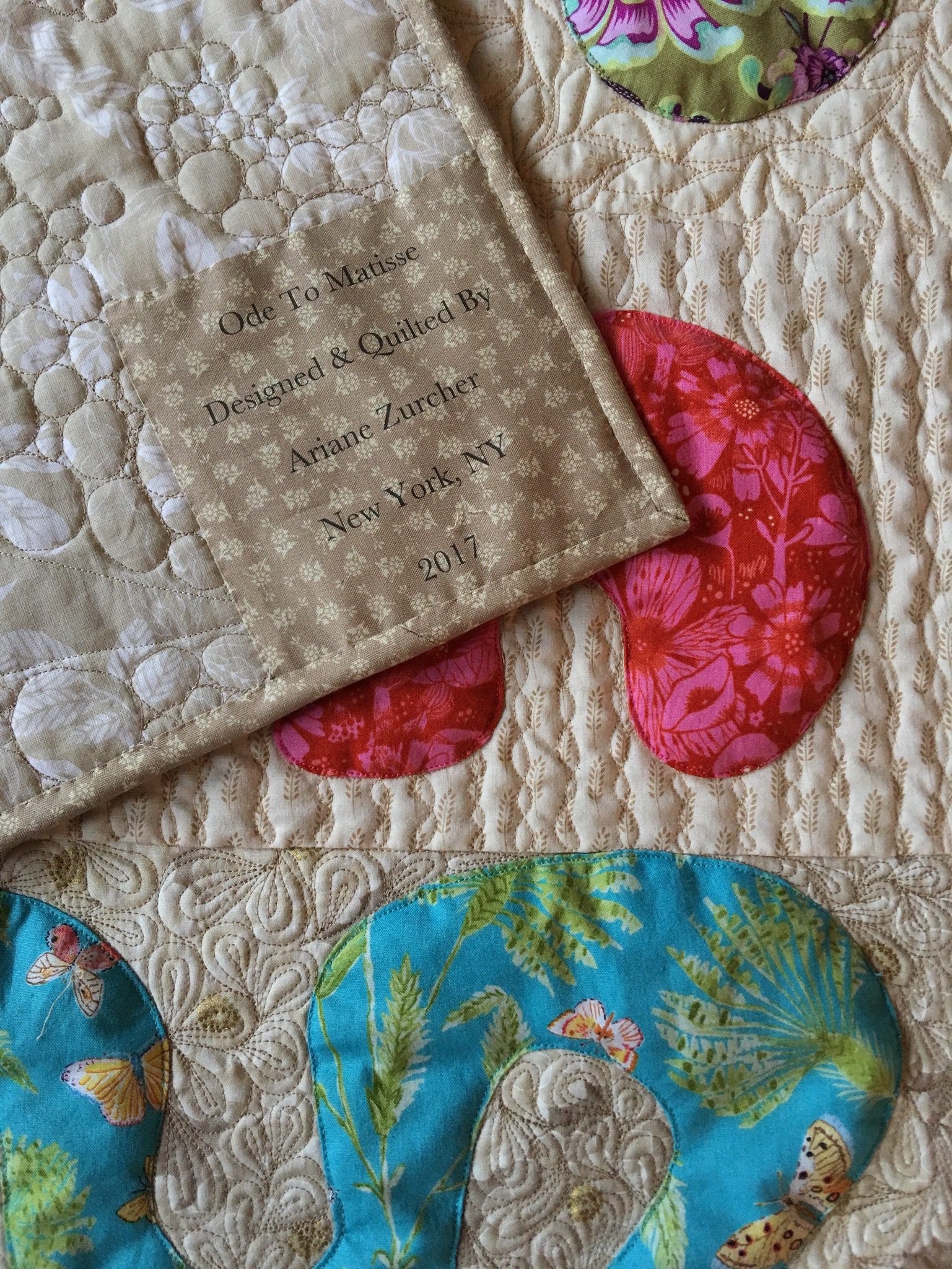 There's nothing quite as satisfying as finishing such a mammoth project, except of course writing about it while it is draped over your lap!
I forgot to include the contents of this quilt on the label.  They are:  100% cotton fabric, Wool Batting, Cotton thread.
Next up – my Block of the Month quilt that I'm currently designing and working on, inspired by the fabulous Sue Spargo, who is to blame for my current obsession with all things fabric, quilted, embroidered, embellished, etc.