I've been taking Louise Fletcher's free Find Your Joy taster class and it's been SO wonderful. First of all Louise is lovely and humble and very, very talented, but also it's exactly what I needed to encourage me to try painting again.
When I was young I wanted to be a fine artist, but the adults in my life (not just my parents) encouraged me to be more responsible (aka get a REAL job.). So I went into fashion design, hated it, then jewelry design, loved it, but ultimately found it not exactly the right fit for me, then found hand stitching, and finally Improvisational Stitching, which has been so wonderful and freeing. I love improvisational stitching, but I also know this isn't where everything ends.  All of this I will be talking about in much more detail in my upcoming workshop: Finding Your Voice Through Exploration and Creativity.  I will be sharing my experience with art, design, and evolution as an artist; how I came to improvisational stitching, the things I continue to do, look for and try.  The workshop is all about encouraging and helping people find their unique voice.  What motivates, what awes and inspires and how to take those things and incorporate them into your art.  The workshop is personal and is the culmination of many things that I've done over the course of my life. We're going to have a wonderful, wonderful time of soul searching in a safe environment, cheered on and encouraged to try things we might not otherwise try and we will talk about that inner critic.  The one who is sometimes so loud we have a hard time concentrating. Each day is filled with exercises to help us see what's blocking us, how to work through and around those blocks (and inner critic) and move towards what we love. There are still spots open!  So sign up.
I'm a seeker, a life long learner.  I got that from my mother.  I love stretching and trying new things.  I get bored pretty quickly, so improv stitching has been fantastic as the options are infinite.  I can incorporate lots of different things into it.
When I was awarded the Artist's Residency in France this spring, I had a studio and realized how much I needed that so I could work bigger and add paint to my pieces.  My husband early into my 2-week residency said to me, while talking on the phone one evening, "So I guess you're not going to be able to come back from this…"
"What do you mean?" I asked.
"Having a studio," he said.
"Yup.  Definitely going to be needing a real studio when I get home."
So guess what? I was gifted part of a studio for the summer and painting was the first thing I wanted to do. And this is where Louise's free class comes in.  It's all about painting and I figured I'd get some prompts and encouragement to paint again, and that's exactly what I got and so much more!
And then I hit a snag.  I had one of those days where the voice in my head told me everything I was doing was awful.  So I did what I've learned to do over decades of dealing with this voice.  I kept going anyway, though I must admit there was little pleasure to be had…  and when the voice became too insistent I went back to doing some hand stitching on La Bête, which is soothing and lovely.
And the next morning I woke up and went into the studio and began working on the piece that had me down and feeling like this whole painting idea was a bad one.  And do you know what happened? I decided I rather liked it after all.
And then I decided that I wanted to try doing something I'd never attempted before.  Doing an abstract piece using a photograph as inspiration.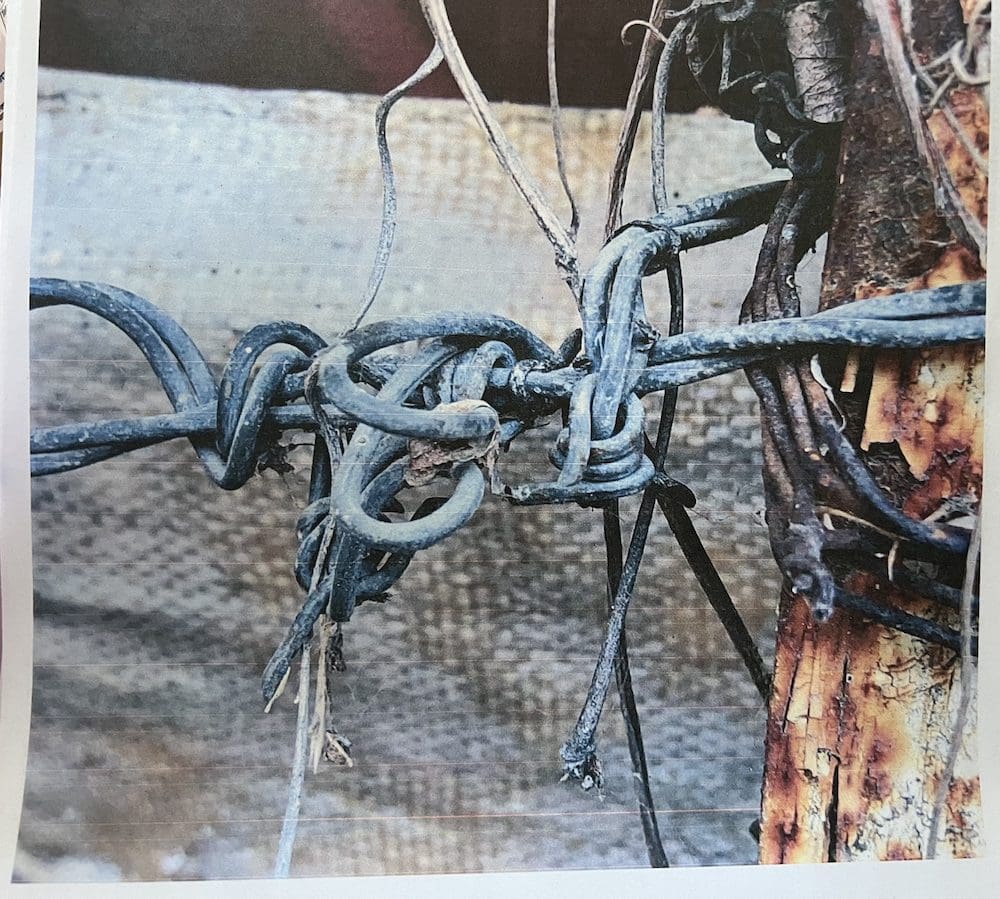 And then I tried to recreate this on proper paper, but the size is off and I actually like the one in my sketch book best, so that was interesting!
I also played with some black paper using only black, white and red paint.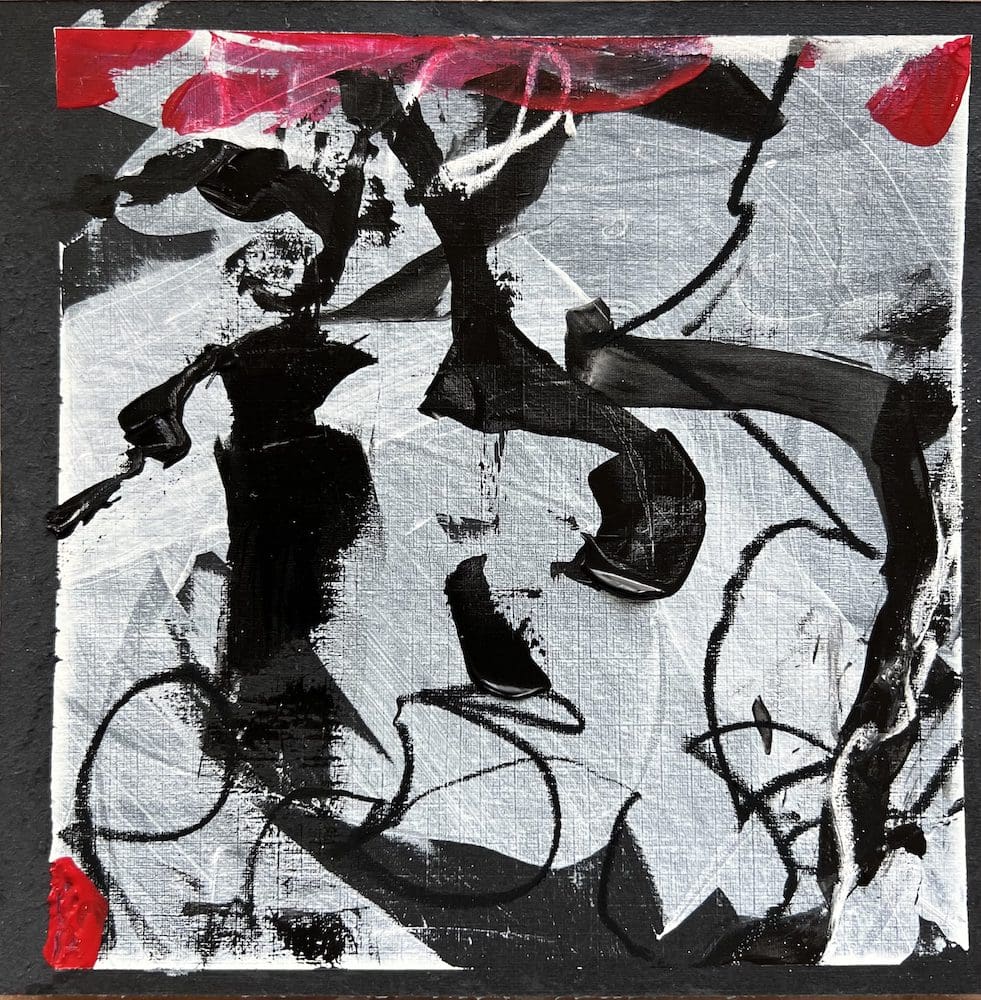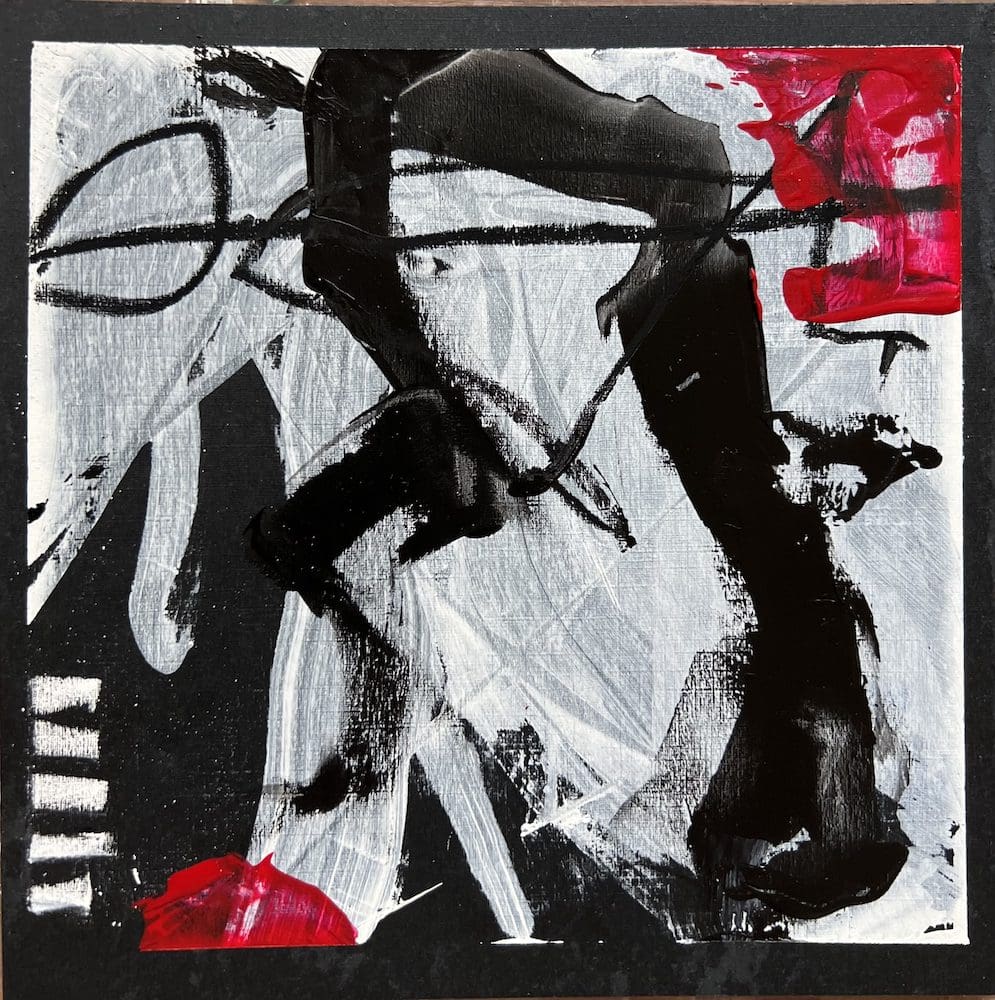 Anyway, the whole experience has been nothing short of amazing and so, so informative and just beyond wonderful. I'm loving my time in the studio where I go from painting to stitching and then back to painting and now can incorporate both in my work, which feels even more amazing.  I love that as I learn new things my work changes.  I love that just because I enjoy something I don't have to stick with just that and do nothing else.  I love that I continue to explore and grow and the work shows that as well.  
                                                          *******************************************************************************