Above is one of the images my teenage daughter sent me saying that she wants to dye her hair pink. I don't have a problem with that, except for the fact that her hair is already pretty fried from having gone platinum (like Gwen Stefani) for years, and only in the last year plus has she agreed to get highlights, (less damaging) instead of full on platinum. Even so, her hair is not in good shape, we just had to trim it again, and I worry that it will get even worse if she goes pink. So we discussed. And then we discussed more, and there was alot of disagreement, interrupted by watching You Tube videos of a number of young girls dying their hair various shades of pink and how they did it. Some were incredibly compelling and I wavered between thinking maybe I should dye my hair pink, to sternly telling myself this was an idea I would quickly regret and reminding myself to get back on track as this wasn't about ME, this was about my daughter and how could I best support her without her doing something that might just destroy what was left of her hair. Not my body, not me, get out of the way…
Last night I barely slept. Because this is just the sort of thing that keeps me up at night. And yes, I was aware, at 2AM that I was incredibly fortunate to be thinking about my daughter's hair color and not something actually serious. I even said a silent – thank you – to the great unknown. And then I remembered that when my son was my daughter's age he went in for some serious ink and came home with a massive tattoo that he now wants to have removed. I didn't love that tattoo, though I rather like a couple of the others that he got, but again, not my body, not me, get out of the way…
My job is to support my children, now almost adults. This is easier said than done, however. I figure it's my job to give them good information so they can make, hopefully, great decisions. Unlike my own young adult self who made a series of questionable and even very, very bad decisions! (I will spend the remaining years of my life apologizing to my mother for what I put her through.) But mostly I need to not engage in anything that starts feeling like a power struggle, because, in the long run, I'm not going to win, and anyway it's ultimately counter productive. Again, not my body, not about me, get out of the way…
All of this got me thinking about designing (see, I told you my thoughts ricochet like a pin ball during the wee hours of the night/morning) and how similar these kinds of challenges are when designing and stitching. Often when designing I begin with a sketch. Sometimes that sketch evolves, but other times it's simply the starting point. I have to be willing to let go of the initial idea. Some ideas are definitely more bossy than others. I have to go with where the design leads me, sometimes down unexpected paths. But most of all, I have to get out of the way…
Below is a sketch of a bracelet idea I had using 18 Kt Gold and a variety of green colored gemstones.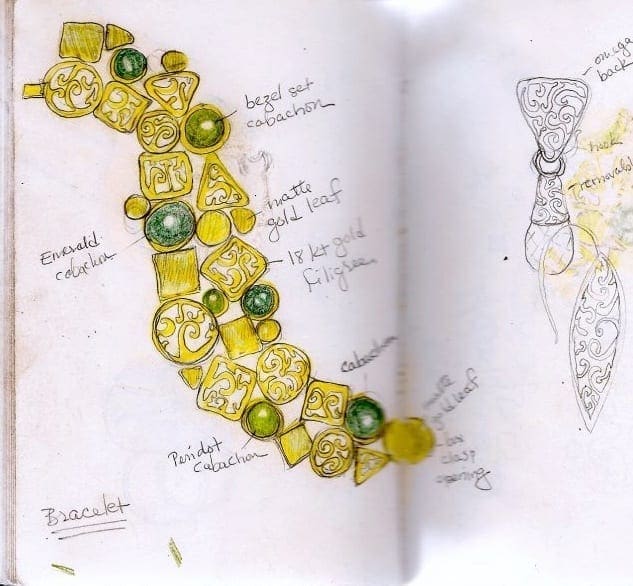 That idea eventually turned into this 18 Kt Brushed Gold Bracelet with multi-colored Tourmaline.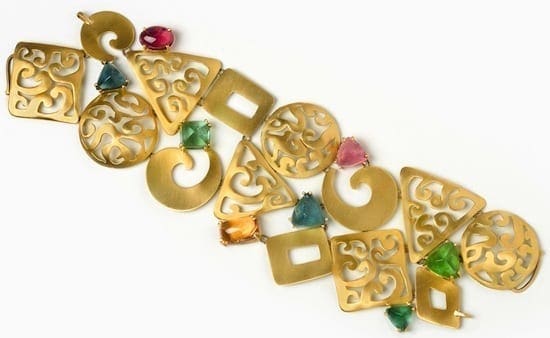 Below is my sketch for what would finally become my Cookies Delight Quilt. The Pattern for this has been written and I'm just waiting on a couple of things before releasing it as a PDF with detailed instructions on how to make and stitch it.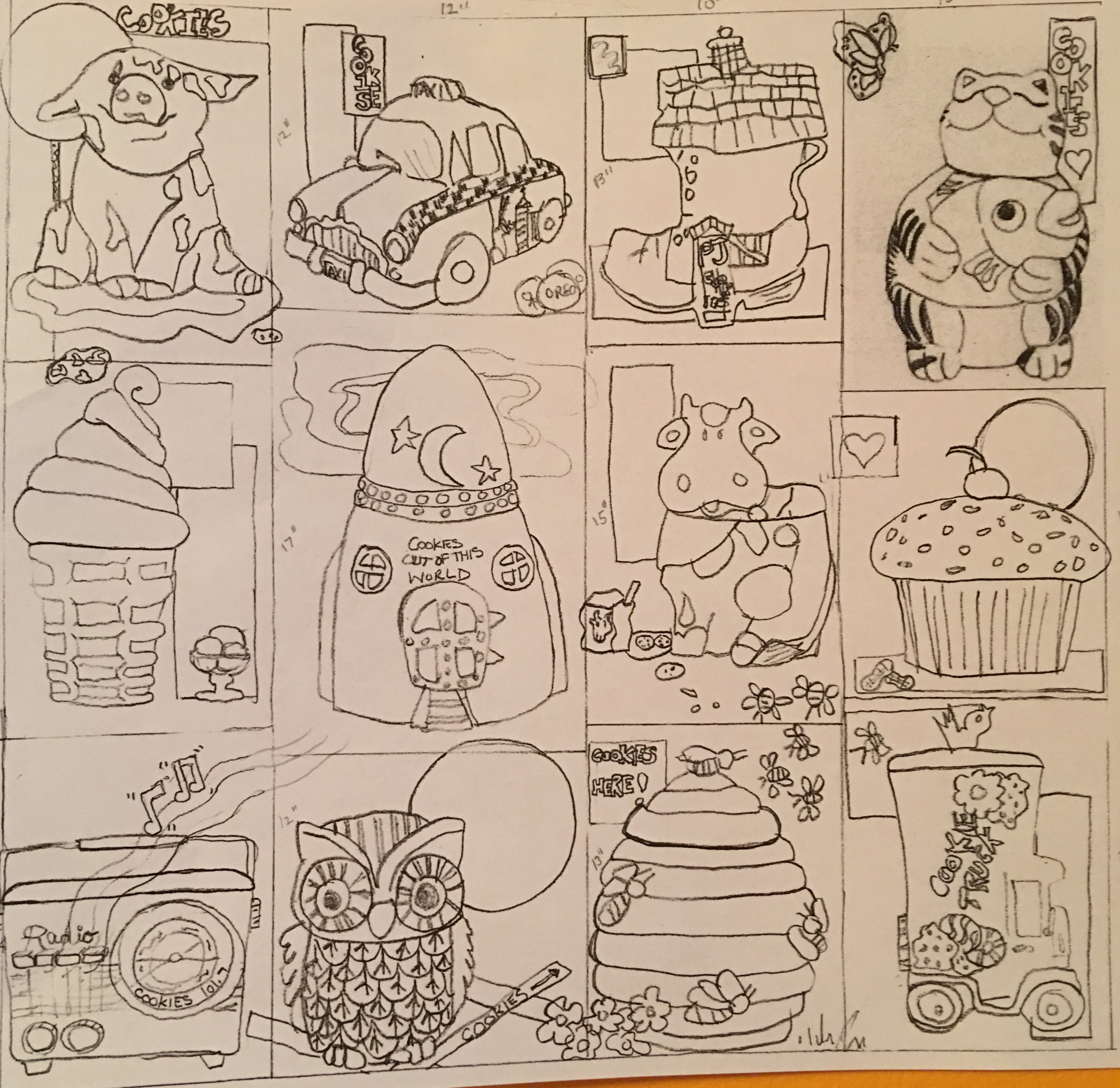 My Cookies Delight Quilt, using Sue Spargo's wonderful techniques for layering and stitching, free motion quilted and bound!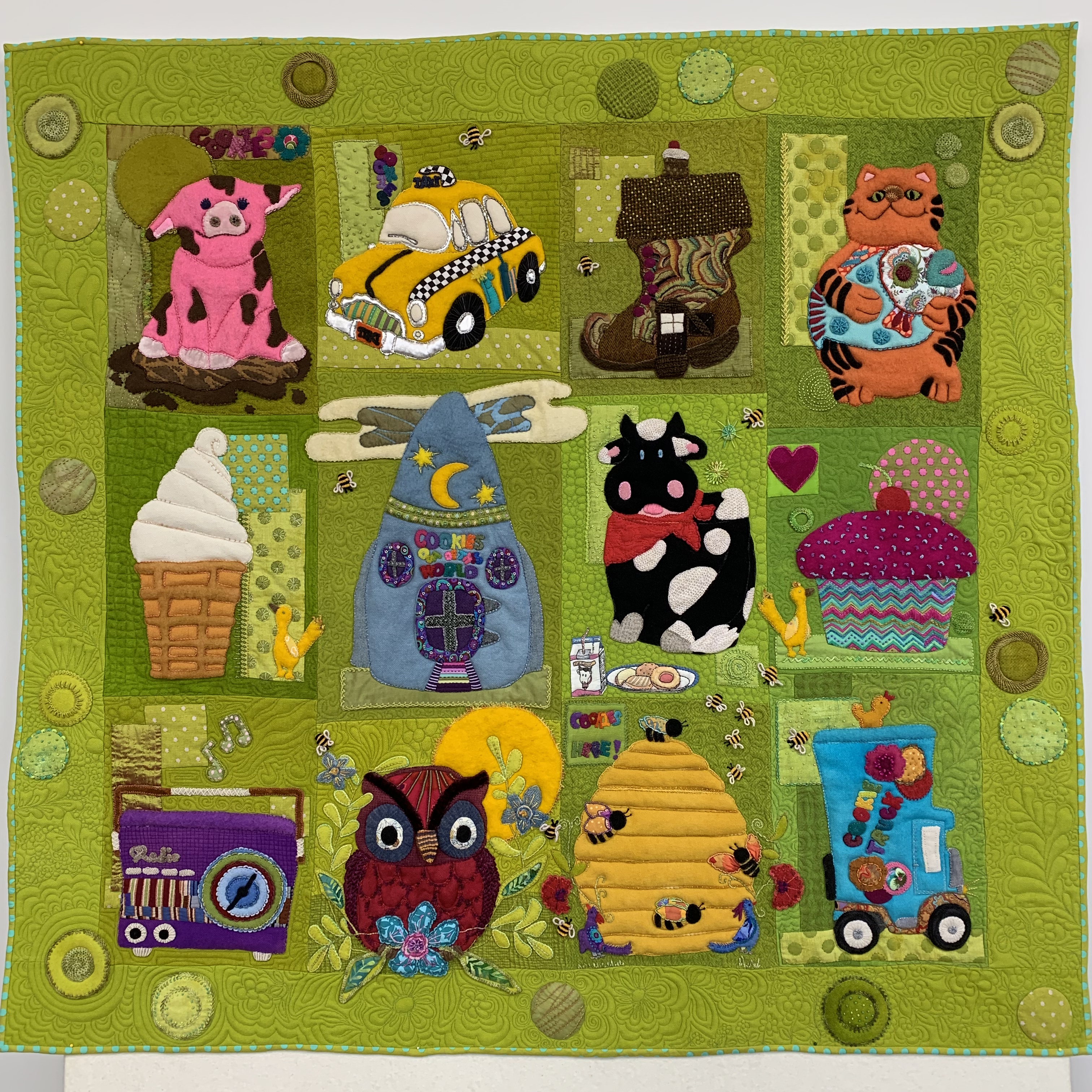 This is the preliminary very rough sketch I did for the piece I'm currently working on, which was begun in a workshop I took a few weeks ago with Sue Spargo.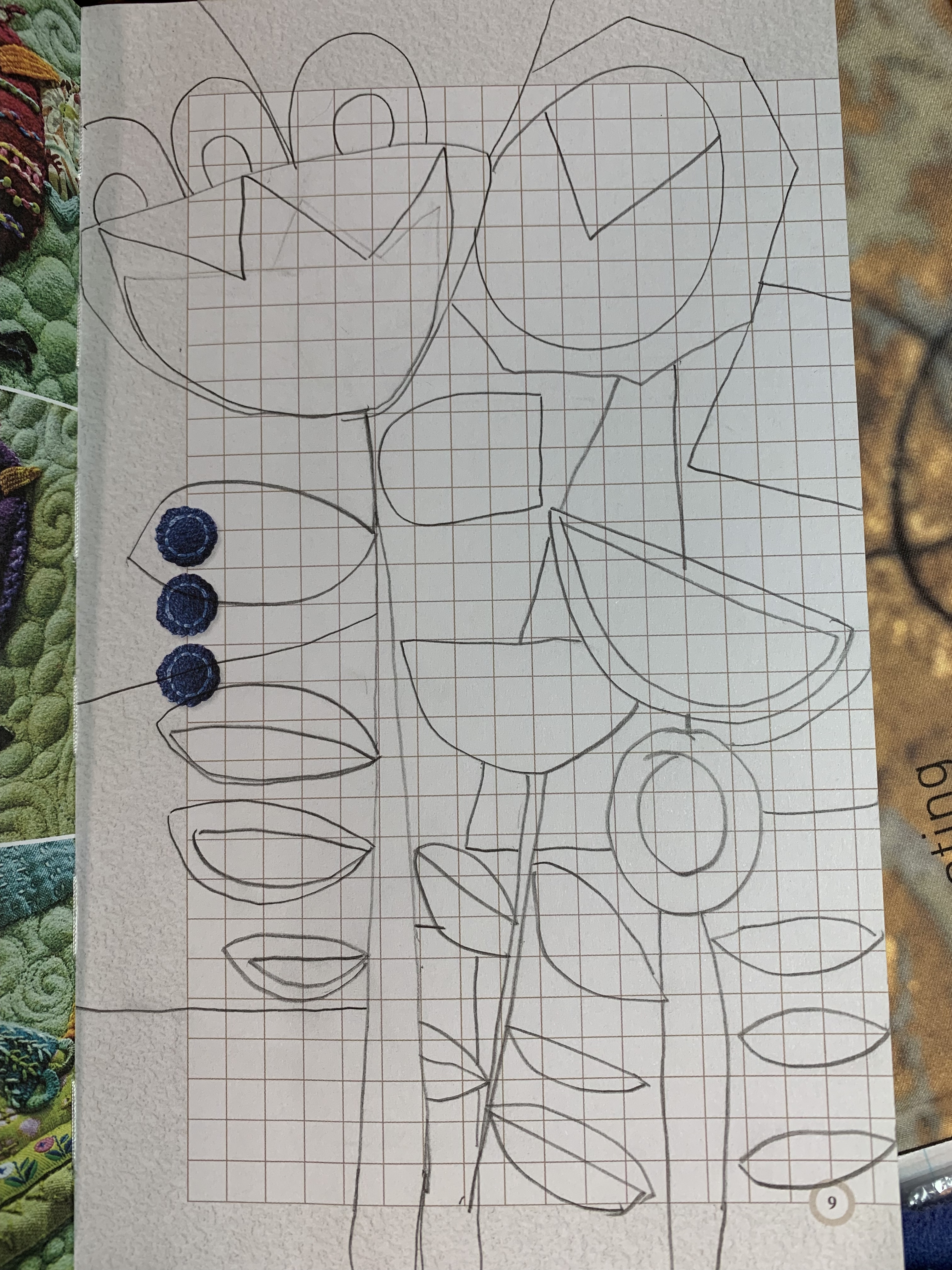 This is where it's going or maybe I should say leading me… I am definitely having to follow this one as it's careening off the original path I'd set out on. We will see! But that's also part of the fun – seeing where it goes and doing my best to follow.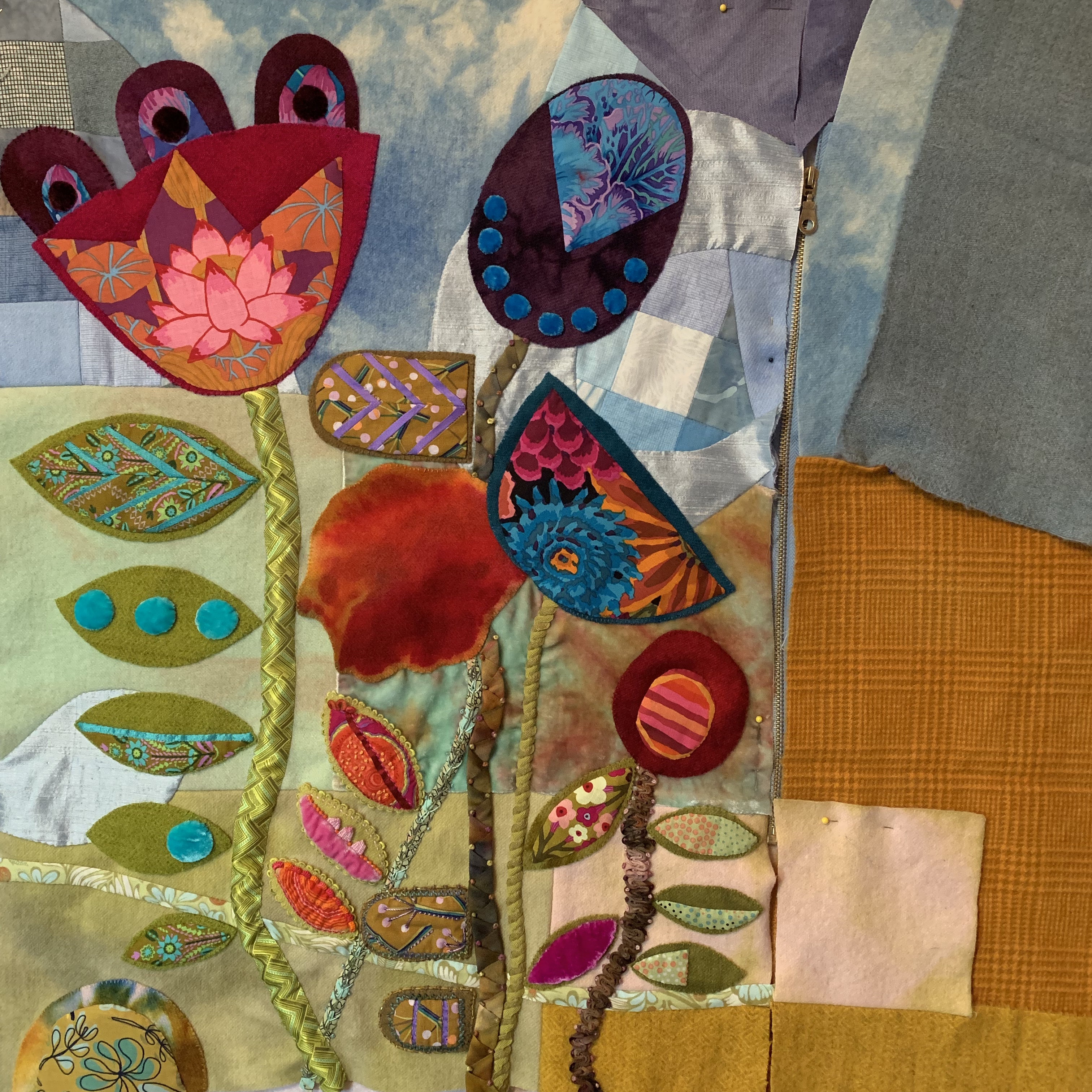 I've convinced my daughter, for now, to get highlights (compromise) and we've bought a "pink conditioner" and will apply that this weekend! Who knows where this may lead?!